Nov 8, 2023 Business Administration Faculty Research in Education
Taking down cannabis industry's smoke screen
Cannabis firms should address marijuana's stigmatization head on, according to Gies College of Business professor Olga Khessina, as the industry faces increased competition, oversaturated markets, and sagging stock prices.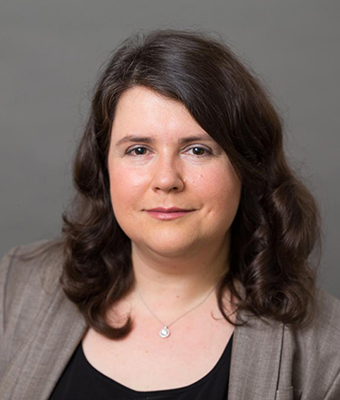 "Information is key. They should begin operating more like consumer packaged goods companies, choosing names and using marketing techniques that publicly broadcast and celebrate their identities as marijuana producers," said Khessina, who has co-authored the research paper, "Stepping out the Shadows: Identity Exposure as a Remedy for Stigma Transfer Concerns in the Medical Marijuana Market" with Samira Reis from the Universided Carlos III de Madrid and J. Cameron Verhaal from Tulane University, published at Administrative Science Quarterly.
This month, Ohio became the 24th state to legalize the sale of recreational marijuana, nearly a decade after they rejected a similar ballot measure. According to MJBizDaily, this win in a crucial swing state that's often considered a bellwether for Middle America attitudes would be yet another major milestone for marijuana legalization in the US.
But because state lawmakers in the Republican-dominated state legislature have the authority to alter or repeal any voter-approved initiative statute, this creates a timely opportunity for cannabis brands to introduce themselves in a way that reduces stigmatization.
"These companies should unambiguously broadcast who they are to distance themselves from the past connection to an illegal market. Don't hide behind non-descript names and storefronts or people will suspect you are doing something wrong," added Khessina, associate professor of business administration and director of graduate studies at Gies.
Khessina's research analyzed comments by medical marijuana customers on Weedmaps.com – a marijuana-based community – from its inception in 2008 through 2014, when Colorado legalized recreational marijuana. Customers worried that categorical stigma would be transferred to them and needed reassurance that the companies that sold medical marijuana were legitimate businesses.
"I find it interesting that there are markets that are perfectly legal from a governmental point of view, but heavily stigmatized. Sometimes, it's simply because people are embarrassed to talk about it," said Khessina. "Marijuana is distinctive because until 1996 it was illegal everywhere in the US, so for a lot of people that memory is still fresh."
The cannabis industry has grown rapidly since then. The global cannabis market was valued at $10.2 billion in 2018 when there was great optimism for the industry and a number of today's major players went public and is projected to reach $43.2 billion by 2024. Over the same period, the number of cannabis companies operating in the US grew from 1,350 to more than 4,000 today. Category branding primarily focuses on product quality or community involvement. Despite this growth, stock prices of some of the top publicly held cannabis firms have fallen by as much as 90 percent, suggesting a change of strategy is in order.
The US marijuana industry is looking for relief at the federal level. In an effort to expand the marketplace, several cannabis companies sued the US Attorney General in October, challenging the federal prohibition of cannabis, which is now legal in 24 states and the District of Columbia. They are simultaneously lobbying Congress. Last month, the Senate introduced the SAFE Banking Act, which will make it easier for cannabis businesses to work with banks to access capital.
But Khessina said her research uncovered a faster way to improve performance in stigmatized industries, rather than waiting for industry change at the federal level.
"By featuring vanguard customers openly discussing a cannabis brand's benefits in public, destigmatization will happen faster," said Khessina. "This can also include mainstream celebrities, influencers, and athletes."
There are already a number of brands funded or endorsed by people famous for their association with marijuana products, such as actor Seth Rogen and rapper Snoop Dogg. But now companies have begun to expand the pool of brand ambassadors, partnering with celebrities such as Martha Stewart and Gwyneth Paltrow to develop a line of CBD products.
Chicago-based Top 5 cannabis brand Verano (VRNOF) is taking moving into the mainstream a step further by introducing Savvy Threads, a limited-edition streetwear and e-commerce platform that sells a fashion line featuring designs by independent artists.
Khessina is currently working on a paper that links political polarization to destigmatization of the medical marijuana industry. She applies her research to categories ranging from to craft beers to female hygiene period products, which is looking to offset stigmatization by rebranding the category as FemTech.