Developing the principled decision makers of tomorrow
---
Responsible professional behavior is top of mind for business professionals and their organizations. The Center for Professional Responsibility in Business and Society ensures that it's top of mind for Gies Business students, too.
Through the Center's efforts, our students learn professional responsibility concepts in the classroom and have a chance to apply them through their work with student and professional organizations as well as case competitions. These opportunities to learn and practice professional responsibility provide a strong foundation for Gies students to become principled decision makers and effective business leaders.
In addition, the Center has inspired new dimensions in organizational decision-making by creating, delivering, and sharing academic research and educational materials that advance the practice of professional responsibility.
Teaching professional responsibility
The Center has developed two courses that provide Gies Business students with a strong professional responsibility decision-making framework.
Business 101 is a required course that introduces all Gies Business freshmen to the concepts of professional responsibility in personal and interpersonal contexts. Students also discover the meaning of responsibility in their careers and professional relationships and explore the ethical balance of profit motive and corporate responsibility within a global context.
Business 302 is a required course for upperclassmen selected to be Business 101 section leaders. This course examines the attributes required to advance the understanding of professional responsibility in the context of an ever-changing business environment.
Inspiring effective leaders
Students discover the meaning of responsibility in their careers and professional relationships.
Providing Auditor Independence Education Materials
In partnership with Deloitte LLP, the Center has developed award-winning Auditor Independence Education Materials designed to help facilitate students' learning about core concepts, real-world applications, and prevailing rules on this topic. These materials include a video, five case studies, a student handout, and an in-class laboratory market game. They are available online and have been used by more than 500 professors across 412 universities in 36 countries.
Advancing learning through the Business Ethics Academy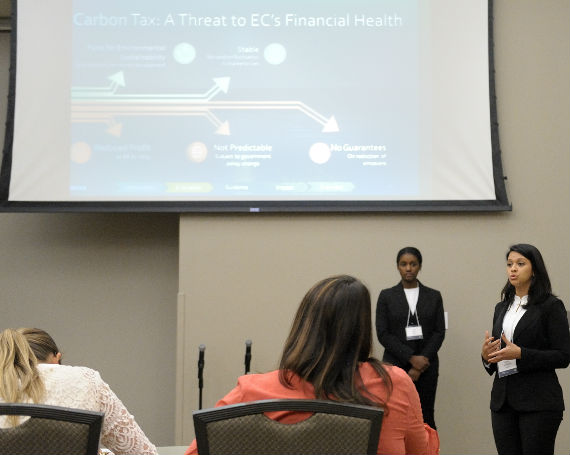 Selected undergraduate students build case analysis skills and presentation expertise as part of the Business Ethics Academy. Working in teams, students explore professional responsibility issues and participate in case competitions around the country and across the globe.
Supporting additional initiatives
The Center facilitates professional responsibility education by hosting conferences, lectures, and competitions that address real-world issues related to principled decision-making and by supporting cutting-edge research in the field. Through these efforts, the Center expands the conversation about professional responsibility to other academic institutions as well as to the public.