Illinois Strategic Organizations Initiative
Generating Business with Strategy and Purpose
Business is at a crossroads. Companies are facing disruptive opportunities and threats, limits to sustainable growth, and unprecedented challenges to established models of corporate governance. To thrive in an increasingly competitive environment, business leaders need to define their organizational purpose, establish strategic direction, and harness the organizational power of human capital and technology. New frameworks and practices for strategy and organizations are critical for businesses to prosper in this environment.
The Illinois Strategic Organizations Initiative (ISOI) mission is to develop the next generation of thought leadership in the design and management of organizations and their strategic agendas. It brings together a world-class group of interdisciplinary scholars who aim to guide the research and practice of purposeful approaches to strategic management and organizations for the 2020s.

At the forefront of research in organizations and strategy
ISOI builds upon the College's distinguished history and reputation in macro-organizational behavior and strategy that will continue to be the foundation of theory, research, and management education. To build on this tradition, ISOI is setting a new research agenda based on the emerging need for thought leadership in these key areas of research.

Organizational Purpose, Stakeholders and Institutions
ISOI brings to the evolving concept of corporate purpose an institutionally informed perspective. It promotes research that looks at how organizations align with society and its institutions, examines their interactions with stakeholder groups, and explores the effectiveness of changing governance models. Matt Kraatz, ISOI Associate Director, is the focus area leader.
Digital Technologies and Disruptive Business Models
Advances in computing technology create a central challenge and phenomenal opportunity for companies in virtually every industry. We examine the impact of digital innovations like block chain, cloud computing, Machine Learning and Artificial Intelligence (AI), have on business today. ISOI collaborates on disruptive business models that build on The Grainger College of Engineering excellence and innovation as well as tap into campus resources such as the National Center for Supercomputing Applications (NCSA), the University of Illinois Research Park, and Discovery Partners Institute. Joseph Mahoney, ISOI Associate Director, is the focus area leader.
Organizational Intelligence and Strategic Adaptation
The business challenges of the 2020s require new organizational structures and processes that combine the power of human capital and digital technologies. It is imperative that organizations exploit existing capabilities, explore new ones, and adapt to ever-changing environments. In doing so, they become intelligent systems, more effectively confronting the myriad of opportunities and threats they face. To facilitate managing their strategic agendas, ISOI examines new and emerging forms of organizational intelligence and the limits of human attentional capacity. William Ocasio, ISOI Director, is the focus area leader.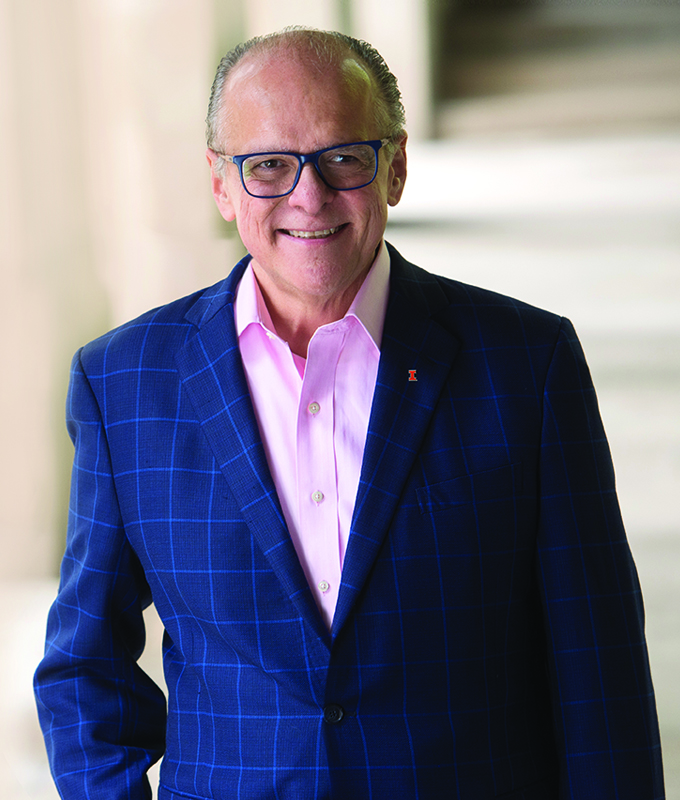 "We aim to make Gies College of Business the leading interdisciplinary research institution in the world at the intersection of organizations and strategy."
- William Ocasio, Director of ISOI and Professor of Business and Leadership
View William Ocasio's Profile
Leadership that promotes interdisciplinary collaboration
ISOI is dedicated to creating a vibrant community full of rich dialogue, innovative thinking, and collaborative partnerships with companies eager to implement its findings. William Ocasio, an award-winning teacher and scholar in organizational theory and strategy, joined Gies in 2020. He is teaming up with ISOI Associate Directors Matthew Kraatz, and Joseph Mahoney to create a welcoming environment for faculty and students that cuts across disciplines to conduct innovative research and collaborate with corporate partners.
Join us
ISOI welcomes faculty, students, alumni, and corporate partners seeking to bring new thinking and relevance to this area of study. Email William Ocasio at wocasio@illinois.edu for more information about how you can be involved with ISOI.