Build Your Talent Pipeline
---
Partner with our Recruiting Assistants to better understand the student mindset and hiring trends as well as best practices for positioning your organization to our students. We will help you determine which opportunities best fit your business goals.
Talent discovery
We offer many complimentary and low-cost ways to discover Gies Business talent, tailored to meet your specific requirements:
Coffee Chats
During non-peak recruiting season, reserve an interview room for a Coffee Chat with Gies students in a more personal and conversational format.
Conduct On-Campus Interviews
We provide in-person interview rooms and classrooms on a first-come-first-serve basis throughout the academic year. The highest demand for room usage is during the months of September, October, February, and March. Virtual interviews may be scheduled throughout the school year.
Employer Showcase
Engage students in casual and more intentional conversations about their future and guide them as they prepare for Gies business fairs and job interviews.
Gies Business Fair/Virtual Job Fair
Meet thousands of talented students from Gies and across the university to match your hiring needs. Participate in-person or virtually at the biggest recruiting events on campus each fall and spring semester. Learn more.
Handshake Platform
Register for the career fair, share your company events, post jobs, and search résumés through Handshake. Handshake is the campus recruitment management system used throughout the University of Illinois Urbana-Champaign.
Internships
Hire students for summer or winter internships with your company. Internships are a valuable professional experience for students, while opening the door for you to make early full-time employment offers.
Brand positioning
Even the most successful organizations need to continuously reinforce why they're a smart career choice. Partner with us to enhance your brand's reputation and recruit the best job candidates.
Collaborative with Gies on social media
Brand your company, gain exposure, and engage with students on social media.
Encourage alumni at your company to get involved with Gies
Identify Gies alumni within your company to be involved with activities that support student professional development such as résumé development, career exploration, or interview practice.

Host students at your company
Host students for a company tour and provide a glimpse into your business functions and organizational culture. Visits can be held virtually or at your office, and can be scheduled on Fridays, during winter break, or throughout the school year.
Host virtual information sessions and professional development activities
Give students a better understanding of your organization and career opportunities and participate in skill-building events and workshops--virtually or on campus.
Work with a team of students
Work with a team of talented Gies students to solve business challenges or explore new opportunities. It's a great way to expose students to your business –and gives you a chance to work with them before you hire. Learn more.
Our Students
Our curricular and co-curricular experiences provide a pathway for students to develop the skills needed to be competitive in the market and thrive in their careers. Stand out by creating a Gies Business recruitment strategy that enhances your reputation with new and experienced hires.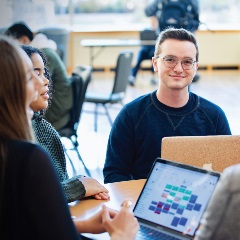 Undergraduates:
Innovative curriculum across disciplines and industries prepares our undergraduate students to excel in internships and entry-level positions at your company. Gies students consistently deliver results, with 98% successful outcomes.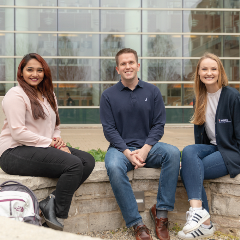 Residential Graduates:
Our six residential, STEM-designated graduate degree programs prepare our 800+ students to become industry leaders who will add in-depth knowledge and expertise to your organization. With an average age of 25, these graduates are ready to add value to your organization from day one.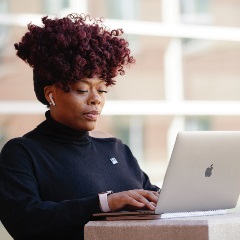 Online Graduates:
Students and graduates of our three online graduate degree programs are motivated learners with an average of ten years of professional work experience. With 5,500+ enrolled online students from over 115 countries, they're prepared to excel in the evolving business landscape.

Stay Informed
Our employer bulletin keeps you informed of upcoming events and opportunities to engage. Watch for it in your inbox at the start of every fall and spring semester. View the Fall 2023 Employer Bulletin or sign up to receive future bulletins.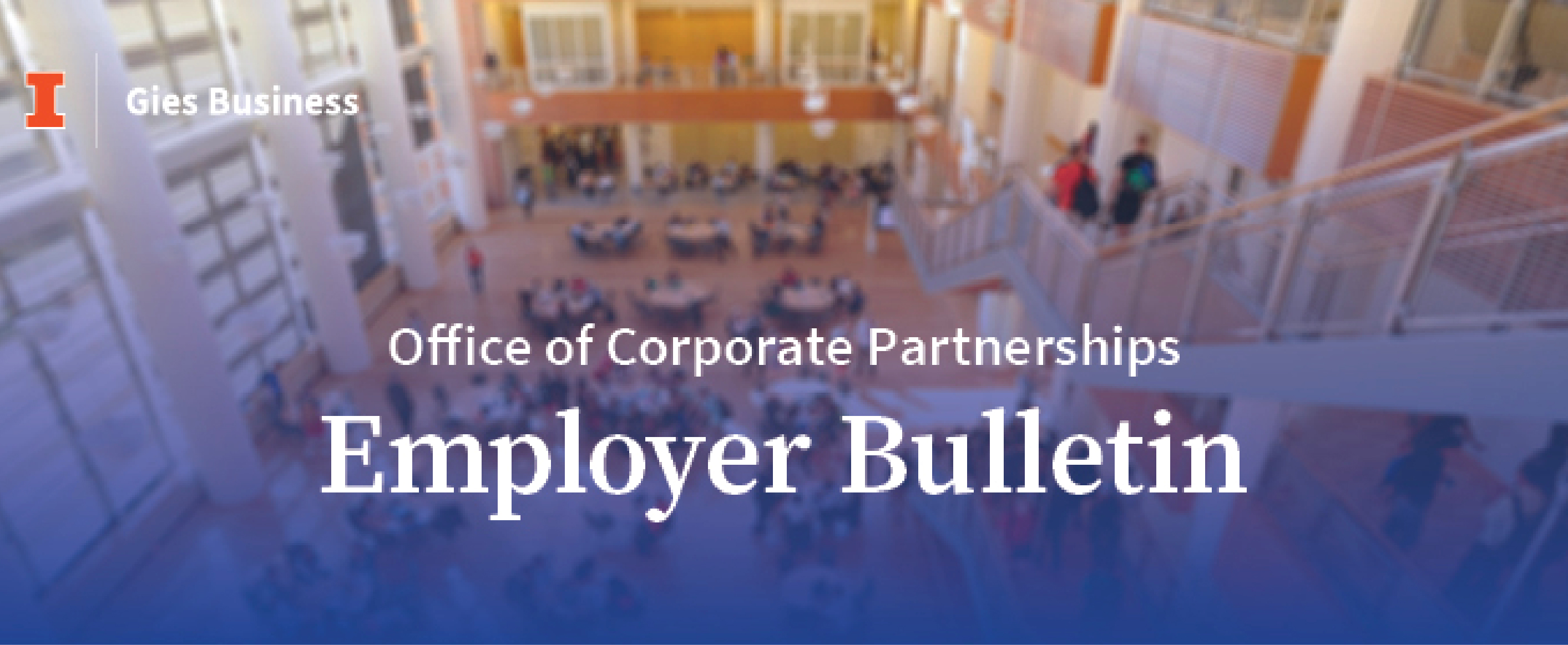 Tap into our collective insights, talent, and resources.
Resources for Corporate Partners