Jan 3, 2023 Business Administration Faculty Research in Education
Research shows retailers should use inspiration, not deals, to significantly boost sales
While most retailers counted on deep discounts to navigate the holiday shopping season, new research shows that focusing on inspirational content instead of promotions in 2023 can enhance overall sales by 13% to 31%.
"Our research shows how engaging shoppers with inspirational messaging that retailers can easily deliver through in-store kiosks and mobile devices lead to more purchases than promotional messaging," said Unnati Narang, an assistant professor of marketing at Gies who specializes in retailing, mobile marketing, and digital platforms.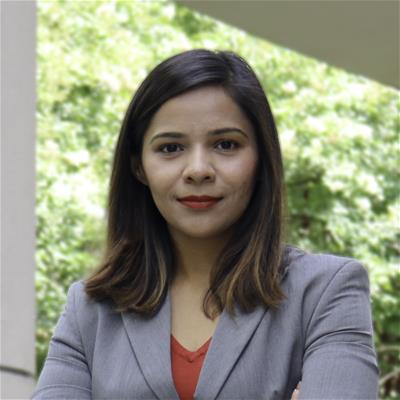 These findings are from a new study published at the Journal of Marketing Research by a team of researchers including Narang. The team includes Dhruv Grewal (Babson College), Stephanie Noble (University of Tennessee), Venky Shankar (Texas A&M), and Jens Nordfält and Carl-Philip Ahlbom (University of Bath). The idea for the research originated when the co-authors met at Wharton's Baker Retailing Conference in New York in 2016 while Narang was a second-year PhD student.
The research uses simulated environments and field experiments in a large grocery store, along with an eye-tracking study to examine how shoppers respond to inspirational (vs. deal-oriented) content. Inspirational content prompts shoppers to be more imaginative about their consumption activities. For example, recipes spark ideas about cooking. The study measures how each type of messaging impacts what shoppers ultimately purchase, as well as what happens when presented with inspirational and deal content simultaneously.
"We were surprised to learn that it's counterproductive to mix deals messaging with inspirational content. This approach was less effective in driving sales," said Narang. "Inspiring ideas prompted consumers to think more broadly about which product categories to purchase and discover new information about them."
However, the study also shows that the increase in sales is mitigated for shoppers who were already in a goal-oriented mindset, such as those entering a store with a specific list of items to buy.
"Adding inspirational messaging for those consumers isn't going to have a big impact if they already have a specific goal they want to complete," said Narang. "On the other hand, a consumer may intend to go to a store to buy one on-sale item, but once they walk in, there is a great deal of potential for retailers to spark unplanned spending."
This research has wide-ranging implications for retailers, from how they engage shoppers online to how they present items in-store, explained Narang.
"Inspirational content is a low-cost and easy-to-implement strategy that boosts sales. Retailers operating on razor-thin margins can switch out messaging on any platform without a big investment," said Narang.
Narang, who wanted a different career path than her family of doctors, has long been interested in business and the dynamics of retail. She earned her bachelor and master's degrees in commerce at the University of Delhi and was drawn to entrepreneurship during that time. She and two co-founders launched a large brick-and-mortar retail startup in 2011 for musical instruments and audio equipment in Delhi.
"It was a turning point in my life. It showed me, early on, that technology drives everything in a retail experience. Most customers discovered our store through mobile and social media platforms. Customers walked in after already searching for products online. Our sales team and store environment then had to do an exceptional job inspiring our customers. Despite our popularity with amateur and pro musicians, we ultimately decided to dissolve the partnership," said Narang. "Some of the challenges I faced as a retailer in engaging customers remained unsolved, and I wanted to bring a research perspective to solving them."
Narang returned to academia, earning her PhD in Marketing from Texas A&M, which has a retail center of excellence. Narang joined Gies in 2020 and teaches marketing analytics and advanced marketing management. In addition to retailing, her research also examines content sharing and engagement in online settings, such as online learning platforms.
"Gies is a special place because of our innovative approach to research and the vision of democratizing education with online degree programs. The school made me feel very valued when I was considering where to go after earning my doctorate," said Narang, who added that her research on retail content and digital platforms will continue. "I am also excited about my other projects on the value of consumer data tracked by mobile apps as well as the impact of new forms of micromobility like e-scooters on shopping."
In 2022, Narang was recognized by the American Marketing Association as an emerging scholar for her contributions to the field of retailing and pricing.
RESEARCH The Impact of In-Store Inspirational (vs. Deal-Oriented) Communication On Spending: The Importance of Activating Consumption Goal-Completion - Dhruv Grewal, Carl-Philip Ahlbom, Stephanie M. Noble, Venkatesh Shankar, Unnati Narang, Jens Nordfält, (sagepub.com)