Oct 20, 2019 2019-10 Accountancy Alumni Business Administration Faculty Finance Student
Gies Giving Day embraces College's identity, purpose
When Larry and Beth Gies announced their $150 million naming gift for Gies College of Business, it transformed the culture, magnified the sense of pride, and completely altered the trajectory for the 100+ year old business school. In addition to supplying the largest single gift ever given to the University of Illinois, the Gies family issued a challenge to students, faculty, staff, and alumni.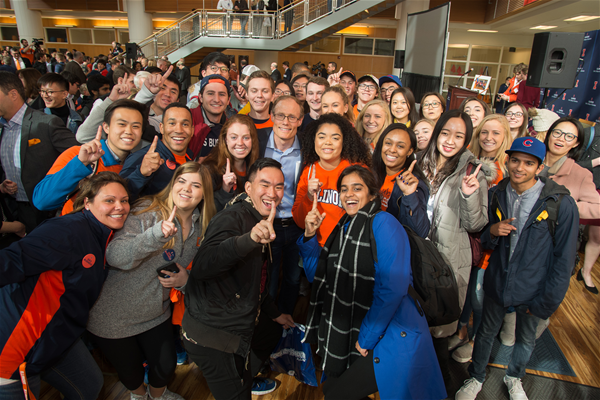 "This gift was never about the money or about the naming of the College; it was about a commitment to building the greatest business school on Earth – where purposeful leaders pursue their passion to make the world a better place," said Larry Gies, who earned his bachelor's in accounting at Illinois in 1988. "Our students and alumni are again bringing our mission to life with our annual Gies Giving Day."
In the spirit of the Gies family's gift, Gies College of Business created an event that is truly unique. The College declared the anniversary of the naming "Gies Giving Day," and each year, students, faculty, staff, and alumni are encouraged to support a designated cause. (VIDEO: Larry Gies and Dean Jeff Brown on anniversary of College naming)
For the first Gies Giving Day in 2018, the College collected food and cash donations for the Eastern Illinois Food Bank. During a two-hour open house in the Business Instructional Facility, nearly 450 pounds of non-perishable food items and $526 in monetary donations were collected. That created more than 3,000 meals for neighbors in the food bank's 18-county service area.
This year, to commemorate the second anniversary of the Gies naming gift, the College will collect donations for the Gies College of Business Emergency Scholarship Fund. This fund supports students in times of financial crisis, so they can afford to stay in school.
"The Gies College of Business Emergency Scholarship Fund is a critical piece of our mission to create life-changing access to a business education," said Jeffrey Brown, dean of Gies College of Business. "This fund makes money available for current students when they face a personal financial crisis. It helps ensure they can continue their education uninterrupted."
In fact, for some students, it can be a life-changing gift. Just ask Carissa Rice, who was a 24-year-old transfer student self-funding her education. She had taken out loans to cover tuition and living expenses, and before the end of her first semester at Gies, she lost her housing and found herself in a financial emergency. She wasn't sure if she was going to be able to continue with the next semester. Then she got word that she had qualified for an emergency scholarship through the College.
"It was an incredible gift," said Rice, who graduated with a bachelor's in accounting and decided to stay at Gies to pursue her master's. "Not only did it help me through a crisis, it gave me the confidence that the College believes in me and is a place that can help me build a life and a career I wasn't sure was possible."
On October 24, students, faculty, staff, and alumni will be encouraged to make donations in person from 2-4 pm at the College's Business Instructional Facility. Donations can be made online all day at https://giesbusiness.illinois.edu/gies-giving-day/. They will be able to help support students just like Rice and help answer the call Larry and Beth Gies set forth with their monumental investment two years ago.
"Gies Business has an amazing family culture, and this is a great way for students to support thier fellow students in a financial emergency – and for alumni to leave their legacy. Every dollar and every gift, no matter the size, will help someone have access to our great College," said Gies. "We're all part of something that is going to be truly remarkable going forward."