Master of Science in Management (MSM) Curriculum
The on-campus Master of Science in Management (MSM) will require 36 credit hours for completion - 24 of those hours will cover general business management core courses. The remaining 12 hours will be electives that you choose based on your interests and career aspirations.
Courses are taken over two semesters (fall and spring) - August to May.
Quick Facts
36 total credit hours required
24 credit hours of general business management
12 credit hours of electives
2 client-based consulting projects
6 concentrations/specializations available
Course Schedule
The master's in management consists of 36 credit hours taken over two semesters - August to May. The courses in the MSM will give you the fundamental business skills that build upon your undergraduate education. Below is a sample course schedule.
Spring Semester Courses
18 Credit Hours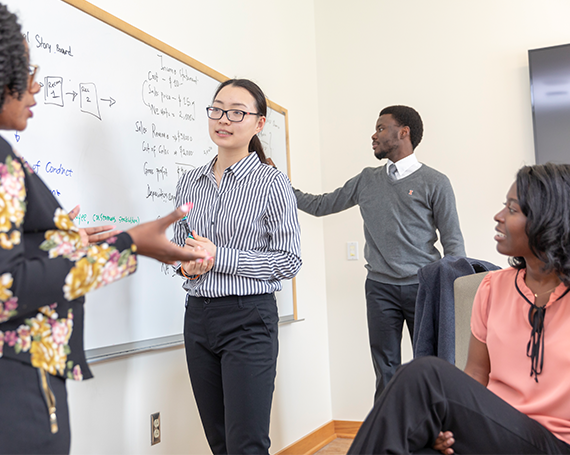 Electives Options
With the remaining 12 credit hours, you have the opportunity to customize your degree in the spring semester by taking elective courses based on your interests and career path. Elective options are subject to change based on the semester and faculty availability. At Gies, our faculty strive to develop relevant, timely coursework – so this list of electives will continue to grow. Enrolled learners will always be notified of new courses.
Advanced Corporate Finance
Big Data Analytics in Finance
Big Data Infrastructures
Brand Management
Business Intelligence
Consumer Analytics
Current Topics in International Business
Data Storytelling
Decision Analytics
Derivatives
Enterprise Database Management
Entrepreneurship
Global Marketing
HR Management & Strategy
Information System Development and Management
International Comparative Management
Investments
Multinational Management
Negotiations
New Product Development
Project Management
Revenue Management
Small Business Consulting
Social Media Strategy
Supply Chain Analytics
Supply Chain Management
Concentrations/Specializations
You may choose to pursue an optional concentration or specialization. Concentrations and specializations are built into the 36 credit hours you need to complete the degree and do not require an additional semester of study. Concentrations appear on transcripts while specializations do not but specializations are designed to help you develop competency in one specific area, similar to a concentration.
Business Data Analytics

Consumer Analytics
Data Storytelling
Enterprise Database Management
Big Data for Finance
Finance

Advanced Corporate Finance
Derivatives
Investments
Global Business

Global Marketing
Multinational Management
Current Topics in International Business
Information Technology & Control

Information Systems Development and Management
Business Intelligence
Big Data Infrastructures
Project Management
New Product Development
Marketing

Consumer Analytics
New Product Development
UI/UX Fundamentals
Brand Management
Organizational Leadership

HR Management & Strategy
Negotiations
Entrepreneurship
Project Management
Supply Chain Management

Operations Management
Supply Chain Management
Supply Chain Analytics
Revenue Management
Decision Analytics
Healthcare Process Management