Miller invested as Daniel and Cynthia Mah Helle Professor in Finance
To acknowledge his expertise and experience in business and public policy, Gies College of Business celebrated the investiture of Nolan Miller as the Daniel and Cynthia Mah Helle Professor in Finance on October 4, 2019. Miller has served a professor of finance at Gies College of Business since 2009. He is also the director of the University of Illinois' Center for Business and Public Policy and a research associate at the National Bureau of Economic Research.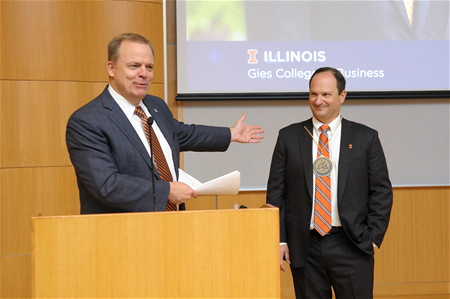 "We are proud to recognize Nolan's pursuit of developing and applying cutting-edge economic theory to important public policy problems," said Jeffrey R. Brown, the Josef & Margot Lakonishok Professor of Business and Dean of Gies College of Business. "We also celebrate the passion he brings to teaching our students."
Most recently, Miller's research has focused on a five-year project funded by the National Institute on Aging to study the impact of environmental factors such as temperature and pollution on health outcomes using Medicare data. Prior to joining Gies College of Business in 2009, he was an associate professor of public policy at the John F. Kennedy School of Government at Harvard University. He earned his PhD in managerial economics and decision sciences from Northwestern University in 1999 and bachelor's degrees in philosophy and economics from the University of Pennsylvania in 1994.
Miller has regularly appeared on the "List of Teachers Ranked as Excellent by Their Students." He received the Teaching Excellence Award from the Illinois Student Government in 2016 and the Arnold O. Beckman Award from the Campus Research Board in 2014.
"I'm honored to be part of a College that promotes rigorous research about how market forces and public policy shape one another," said Miller. "How society chooses to address today's major public policy challenges will fundamentally shape the future of the US economy."
This professorship is made possible through a generous donation to Gies Business from the Helle Family Foundation. It enables the College to fulfill its mission of pursuing excellence, innovation and accessibility in higher education.
Daniel and Cynthia Mah Helle both graduated from the University of Illinois in 1984. Cynthia earned a BS in Finance, and Daniel received an MS in Finance. He worked at Continental Bank and Citibank before joining CIVC Partners LP, a Chicago-based private equity firm, in 1989. He has shared overall strategic and operating responsibility for the firm since 1994. Cynthia worked at ad agency Leo Burnett Worldwide and now leads the Helle Family Foundation's efforts to make impactful investments in education and wellness.