Oct 1, 2019 2019-10 Business Administration Faculty
Demystifying the entrepreneurial process a goal for Graebner
Melissa Graebner has a passion for entrepreneurship and empowering students to develop their own products and build their own organizations.
"What's exciting for me is feeling like I'm opening up possibilities for students," Graebner said. "I try to demystify the process and show them how they can succeed in entrepreneurship."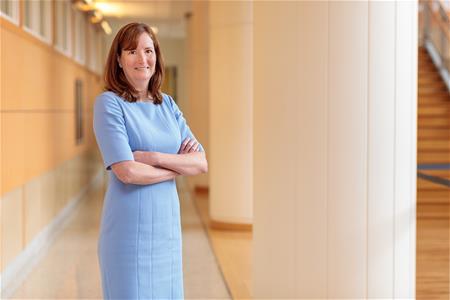 Graebner joined Gies College of Business as a Professor of Strategy and Entrepreneurship in the SEIB (Strategy, Entrepreneurship, and International Business) area in the Department of Business Administration after spending the last 16 years at the McCombs School of Business at the University of Texas at Austin. She earned four degrees from Stanford University, including an MBA and PhD in Management Science and Engineering. Now the Wisconsin native is looking forward to coming back to the Midwest and continuing the rich history of innovation at Gies.
"Gies College of Business is really at a great juncture right now," said Graebner, who will teach several courses focused on strategy and entrepreneurship. "There is so much potential in the College, and the University of Illinois has such an illustrious history."
Graebner was hired as part of the inaugural class of the President's Distinguished Faculty Recruitment Program, a new initiative launched by the University of Illinois System to add more world-class faculty and build its global standing as a leader in education and innovation. Graebner will help enhance the College's commitment to taking a global leadership role in business research.
Her research interests include corporate governance, entrepreneurship, mergers and acquisitions, and strategic decision making. Her work has been recognized by the Academy of Management and has been featured in The Economist, The New York Times, and Forbes. She is also co-editor of the Strategic Entrepreneurship Journal, a major outlet for entrepreneurship research. She believes in using fieldwork and case studies to help answer questions that have scholarly importance and also matter to professionals in the business world.
"Case studies provide a good methodology to study things that can naturally be brought into the classroom, but also have broader academic relevance," said Graebner, who will teach in the MS in Management and MS in Technology Management programs as well as two PhD seminars in strategy process and entrepreneurship.
Graebner will enhance Gies' vibrant entrepreneurial ecosystem. The Origin Ventures Academy for Entrepreneurial Leadership infuses entrepreneurship and entrepreneurial thinking in research, economic development, and public engagement. The iVenture Accelerator provides advice, facilities, networking opportunities, and funding for student-led startups. Social Innovation at Illinois, EntreCORPS, and Entrepreneurs without Borders also provide students with the tools and resources to put their purpose into practice. Graebner noted she is particularly interested in entrepreneurship outside the well-established hubs.
"We have an opportunity as a country to harness all this innovative energy that is located outside of a few large cities," she said. "I find a lot of students are interested in entrepreneurship, but they don't see a path forward for themselves. I'm here to show them how to succeed."