What can I expect as a Gies Finance student?
Finance majors at Gies Business develop the skills to assist organizations and individuals with the acquisition and management of funds. Here, you will learn not only the financial theories that guide the profession, but also access the practical tools used by finance professionals. With a Bachelor of Science in Finance from Gies, you will have the skills to analyze financial data and to determine the value of assets and the return on risk, all of which will position you to guide high-stakes decisions for organizations.
Careers and outcomes
Finance is a fast-paced career with opportunities across several interrelated areas, including asset management and financial planning, banking and investments, consulting, corporate finance, insurance, real estate, sales, and trading. A degree from the Department of Finance at Gies prepares you for success in any of these areas. In 2019, Gies finance graduates earned an average salary of $67,579.
Learn from award-winning educators
Our nationally ranked Department of Finance is home to outstanding educators who deliver innovative courses that challenge and prepare you. You will be part of an active, engaging community of learners, teachers, and mentors. The collaborative educational experience will set you on a path to success.
Benefit from real-world learning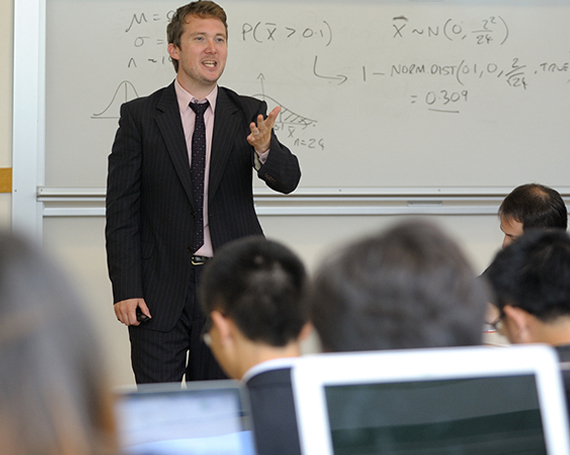 Select finance majors are eligible for acceptance to the Golder Academies, an enrichment program that offers opportunities for students to get advanced, real-world experience in the profession. Through the three academies, Investment Banking, Investment Management, and Finance, you advance your analytic, strategic, and communications skill development, receive mentorship and training for internships and interviews, and network with prominent industry professionals. The AXIS Risk Management Academy offers similar opportunities for students interested in a career in the insurance industry. The Women in Finance Academy provides an environment where women studying the field are supported and mentored.
Hands-on Learning
The Margolis Market Information Lab gives finance students valuable practice with state-of-the-art financial software, preparing you to make decisions on Wall Street.
Typical Plan of Study
The typical plan of study includes business core courses, major core courses, and the required number of major electives. The major electives sample is not a comprehensive list. Students work directly with a Gies academic advisor to determine appropriate coursework, scheduling, and number of credit hours needed to fulfill degree requirements.
Business Core Courses
Sample Finance Major Courses
Sample Major Electives