Jul 19, 2021 2021-07 Access Accountancy Alumni Giving Stories
$150K McMillan scholarship fund starts with a surprise from alums, colleagues
A recent alumni appreciation award has prompted friends and colleagues of Cary D. McMillan (ACCY '80) to raise over $150,000 in his name, making it one of the most successful scholarship fund drives honoring an individual in Gies College of Business history.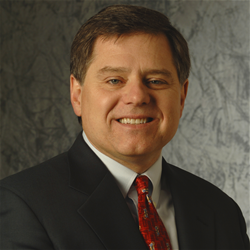 "He is one of the most generous, inclusive people you'll ever meet. If someone asks him for something, he gives it, never thinking what he might get in return," said attorney Daniel K. Touhy (JOUR '79), a fraternity brother and longtime friend of Cary.
When John Aymond (FIN '80), SVP at RBC Capital Markets, received an invitation in March to a virtual Gies awards ceremony honoring Cary, he approached Touhy and a few other ATO fraternity brothers about surprising him with a scholarship fund in his name. The fundraising drive snowballed from there.
Touhy let McMillan's wife Rande (ACCY '80) in on the secret and then partnered with McMillan's daughter Katie (ACCY '14), a campus recruiting specialist at Deloitte. Katie and Touhy coordinated with Tim Durst, Gies senior director of development, to organize and expand the effort in a quick, three-week window, using as a base an email list generated from a recent birthday party for her dad.
"My dad has done such a good job maintaining relationships over the years," said Katie. "So, I was not surprised by how many people were willing to be so generous. The list included many people Cary had not recently kept in touch with. There are definitely some names that we were humbled and honored that they would donate." Ultimately, more than 120 donors contributed.
Cary's roots in the Chicago business and nonprofit community run deep. He is one of the founders and chairman emeritus of True Partners Consulting LLC, a 250-person nationwide tax consulting firm. He began his career at Arthur Andersen & Co. rising to managing partner of its largest office in Chicago, before joining Sara Lee Corp. where he was initially EVP, CFO and eventually CEO of Sara Lee Branded Apparel. Cary is currently a board member of American Eagle Outfitters and Hyatt Hotels as well as the School of the Art Institute of Chicago, the Art Institute of Chicago, WTTW, and Millennium Park.
Cary learned about the scholarship on a surprise Zoom call orchestrated by his daughter and Touhy. Many of the 120 donors attended the virtual event, which included remarks from Gies Dean Jeffrey R. Brown and Associate Dean Brooke Elliott. They shared about Cary's strong connections to Gies as a guest lecturer and member of the Dean's Business Council and the David Kinley Society. They also recognized his generous support of Gies faculty, students, and the University of Illinois men's golf team. The team is led by Gies alumnus and head coach Mike Small, who also spoke at the surprise event.
Cary spoke of the enormous impact professor Ken Perry had on his career, making the accounting profession interesting and easy to understand, as well as the textbooks written by renowned professor Art Wyatt, who was managing partner of Arthur Andersen by the time Cary was on campus.
"My dad told me that whatever I did in life to do it well. I was the smallest guy in my athlete-filled fraternity (ATO), so I learned early to be very useful," said McMillan, who grew up in Urbana and was visiting his 93-year-old father Don (MSF '77) in Ft. Smith, Ark. when the Zoom call occurred. "Former chapter alumni president Larry Austermiller (ACCY '61), was also head of recruiting for Andersen and recommended me to none other than Art Wyatt. I did not have the best grades, but he took a chance on me, and ever since I've always tried to pay my good fortune forward."
Cary is working with Durst to direct the scholarship money toward undergraduate students who do not have the funds to spend a semester abroad. It's something he wished he'd had the opportunity to do and saw his daughters Katie and Jenny benefit from decades later. Katie continues the McMillan legacy on campus by speaking to Business 101 students and recruiting interns to Deloitte.
Contributions or pledges of support to the Cary McMillan Scholarship Fund at Gies College of Business at the University of Illinois (Fund #11776704), can be made by visiting go.gies.illinois.edu/Ways-to-Give. If you wish to make a gift by mail, make checks payable to "University of Illinois Foundation / Cary McMillan Scholarship Fund" and mail to the following address: University of Illinois Foundation, PO Box 734500, Chicago, IL 60673-4500. Please include the fund number on your check.