Nov 7, 2019 2019-11 Accountancy Faculty
Chen invested as Lillian and Morrie Moss Distinguished Professor in Accountancy
To acknowledge her expertise and commitment to business education at the University of Illinois, Gies College of Business celebrated the investiture of Clara Chen as the Lillian and Morrie Moss Distinguished Professor in Accountancy on October 25, 2019. Chen is a professor in the Department of Accountancy, where she has served as the PhD program director since 2016. She joined Gies College of Business in 2006.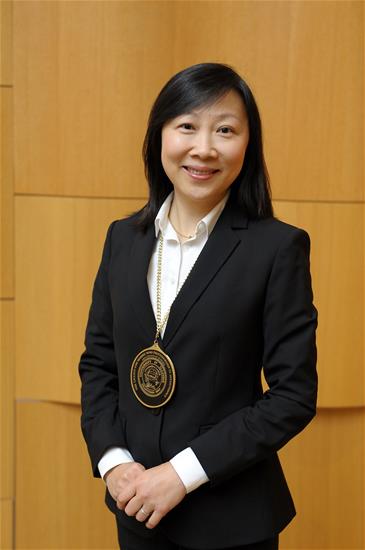 Chen's research focuses on how performance measurement and incentive systems influence employee behavior. Her recent research suggests that organizations with a social mission sometimes offer below-market pay. Employees who choose to work for such organizations identify with that mission and will put in more effort, both individually and as a team. Her paper on this subject with fellow Gies professors Laura Wang and Heather Pesch will appear in the January 2020 issue of The Accounting Review. Chen also co-authored a study that shows firms can design ways to boost employees' identification with its values. This, in turn, helps increase employee effort and loyalty, enhances employee creativity, and improves collaboration.
"Clara understands that, for most employees, it's about more than a paycheck. Her research shows us how well-designed performance measurement and compensation systems can build trust and reciprocity," said Jeffrey R. Brown, the Josef and Margot Lakonishok Professor of Business and Dean of Gies College of Business.
"I'm proud to be part of a College that wants to explore what makes work meaningful to employees and how to design incentive systems to improve employee performance, cooperation, and creativity," said Chen. "I also appreciate the opportunity to not only pursue my own research interest, but also guide others seeking to break new ground with their doctoral dissertations."
Chen has published in top accounting journals and has received numerous awards, including Outstanding Dissertation Award, Best Paper Award, and Notable Contribution to the Management Accounting Literature Award from the American Accounting Association. She serves on the editorial boards of top accounting journals and has been invited as a plenary speaker at major international conferences.
Students often name Chen one of the best professors on campus. She has taught an undergraduate-level course on decision-making for accounting, a graduate-level course on data analytics for management accounting, and a PhD-level course on introduction to accounting research.
Chen earned a bachelor's degree in English from Peking University in 1997, a master's in accounting from the University of Southern California in 2000, and a PhD in accounting from the University of Southern California in 2006.


Acceptance Speech of Lillian and Morrie Moss Distinguished Professor of Accounting
Clara Xiaoling Chen
October 25, 2019
Associate Chancellor and Vice Provost Ellinger, Dean Brown, Professor Elliott, Professor Young, Distinguished Colleagues of the Gies Community, and Dear Friends,
Thank you all so much for being here, and thank you Dean Brown, Brooke, Mark, and Sarah for your kind words. I am tremendously honored by the investiture. I'm so grateful to the late Mr. and Mrs. Moss for establishing this endowment and I'm deeply humbled to be chosen for this great honor.
For me, today's celebration is the culmination of an incredible journey. This celebration is not about me, but about everyone who helped me on this journey. I grew up in a city called Wuhan in China. My parents, grandmother, brother, and I used to live in a two-bedroom, one-bathroom apartment with no central heating or air conditioning. Our household income was less than $200 per month. I never had my own bed before I went to college because I had to share a bed with my grandmother. Due to the Cultural Revolution, my parents never got to go to college. However, like all Chinese parents, they considered education as the highest goal in life. My parents instilled in me the importance of hard work, kindness, and optimism. I was fortunate to get into one of the best universities in China, Peking University, and got an undergraduate degree in English literature.
Since it would be difficult to get a job with an English degree, I decided to switch to accounting in graduate school. When I applied to Master's programs in accounting, I only applied to three top schools: University of Illinois, University of Texas at Austin, and University of Southern California. I have a confession to make today: I was rejected by both U of I and UT Austin, and only got admission from USC. After I received my PhD from USC and interviewed for a faculty position at U of I, I was so grateful that U of I was willing to give me a second chance.
In the Master's program in Accounting at USC, I took a course in management control systems and became fascinated by this topic because there are so many human factors involved. To be honest, it was almost too interesting to be accounting. Being an English major, I was always fascinated by human nature and I was curious about how human nature interacts with incentive system design. Sarah was the PhD director at that time and convinced me to pursue a PhD to dig deeper into the topics. My research examines how incentive systems influence employee selection, motivation, and decisions in complex ways. It's about this simple idea that individuals not only care about money, but also care about social and behavioral factors such as trust, reciprocity, fairness, ethics, social norms, and the purpose of their work. Therefore, organizations have to take these factors into consideration when designing incentives.
Sarah and Mark not only introduced me to an academic accounting career, but also have been amazing mentors and friends over the past two decades. They almost feel like parents to me. As I entered the profession, Sarah's first piece of advice to me was: "Be more aggressive." I'm still working on that twenty years later. Sarah is one of the kindest people I have ever met and always makes time for people around her. She taught me that determination and persistence are prerequisites for anyone trying to be successful in academia. Mark taught me the importance of staying curious and not being afraid of getting out of your comfort zone. In addition to many accounting papers and book chapters, Mark has written three books outside of accounting, including a book on space toys, which is one of my boys' favorite books. Mark's passion about research and intellectual depth have always inspired me. There is no way I can pay Sarah and Mark back for their kindness, so as Dean Brown mentioned, I can only pay it forward by helping the next generation of PhD students.
I joined the University of Illinois faculty after I received my PhD from USC in 2006. I believe most of you are familiar with the Morrow Plots at the center of our campus. It was the first experimental field in the US. The results of the experiments done at the Morrow Plots showed that the most important component of agricultural productivity is the quality of the soil. Today I would like to reflect on the soil on which I have grown from a fresh PhD graduate to an academic receiving this great honor today.
First of all, the University of Illinois has a very long history of welcoming international students and scholars. In 1905 and 1906, when US had significant anti-Chinese policies, U of I President Edmund James was a leader in the movement to open US universities to Chinese students. He believed that bringing Chinese students to the United States could improve conditions in China and also create a positive relationship between the two nations. He brought the first Chinese students to the University campus in 1907. In 1908, the Commencement speaker was Dr. Wu Tingfang, the Chinese minister to the United States, and the topic of his speech was "Why China and America Should Be Friends." For over a century, the University of Illinois has always committed to creating a caring and inclusive community.
The Gies College of Business, just like the University of Illinois, embraces diversity. Not only does the Gies College boast many international faculty and minority faculty, but also it boasts a large number of inspiring and fearless female leaders such as Jan, Brooke, Cele, and Gretchen.
Similarly, the Department of Accountancy embraces diversity along multiple dimensions. I believe our department is the most diverse accounting department in terms of research methodology. We have people using the archival method, experimental method, analytical method, qualitative field research, and even history research. Such diversity in perspectives makes our department a perfect incubator for innovative research. I have been a huge beneficiary of this diversity in ways of thinking and doing research. Over the years, I have collaborated with many of my colleagues using different methodologies, and each collaboration has been truly rewarding.
In addition to diversity in terms of research methodologies, the accountancy department also provides an extraordinarily supportive environment for female faculty members. As the first female department head in our department's history, Brooke is aware of the obstacles facing female faculty members and launched a support group for us. In this support group, we discuss issues ranging from how to mentor other female faculty members to how we can get our husbands to do more housework to how can we better control our temper and not yell at our kids too often. In these moments of sharing, we support each other in a safe and nurturing environment.
As you can see, it is the very nurturing environment at the campus, college, and department levels that enabled me to thrive as an academic. Such nurturing environment provides the soil for my growth and I'm extremely grateful for it.
I also want to thank my students. I learn as much from them as they have learned from me. As a management accounting researcher, I often examine how to measure the performance of managers and employees in organizations. But I often ask myself, how do I measure my life? In my opinion, I should measure my life not by how many papers I have published or even how many citations I have received, but by how many students I have helped, how many junior colleagues and doctoral students I have mentored, and how many lives I have touched even in a small way.
I want to thank my husband, Linden, for his love and support. He has been my best friend and true partner since we got married 22 years ago. I want to thank my parents-in-law for treating me as their own daughter and giving me amazing support when my kids were little. In addition, I want to thank my dear friends, Laura Li, Laura Wang, Fei, Helen, Mingming, Xiaobei and many others who cannot make it today for always being there for me. We share with each other our joys and struggles. We also share with each other homemade cookies and cakes and they are super delicious.
Last but not least, I wanted to thank my teenage boys, Kevin and Marco, for being here. When I first mentioned this ceremony to them, the first question they asked was: "Are there going to be other kids?" And they were disappointed to find out they would be the only kids here. My boys give me daily joy and inspiration, but now that they are teenagers, they are also at a stage when listening to me talk is not one of their favorite activities, so I'm very proud of them for bearing with me for so long. But I don't think it would be a good idea to test their limit, so I should probably stop talking.
In closing, I would like to quote one of my favorite authors Virginia Woolf: "Life was being made up of little separate incidents which one lived one by one, but when looking back, it all seemed like a perfect plan." I know that there are so many helping hands, lucky breaks, and second chances that helped me come this far. Thank you all for sharing this incredible journey with me and thank you all so much for coming!