Build an academic future with broad business training and bold research
A PhD in Business Administration at Gies Business provides an opportunity to become a successful scholar, teaching your business specialization. Our unmatched experience is built on a flexible curriculum, collaborative scholarly community, and an emphasis on faculty mentorship.
Activities like peer mentoring, a professional development series, community events, and a brown-bag seminar series shape a unique collaborative spirit among a doctoral cohort that averages 40 students. A formalized mentorship process, beginning on day one when you are assigned a specified faculty advisor, keeps our faculty fully committed to your progress. Additionally, a Gies PhD in Business Administration positions you to be a thought leader through dedicated research on the industry's most relevant topics. Expert faculty, ambitious research opportunities, and a foundation in collaborative coursework leaves you prepared to turn your newly acquired knowledge base into a successful career in academia.
A scholarly emphasis with six specializations
Access to our extraordinary faculty means more at Gies, because you can lean on their expertise within the six different specializations in the department. These can help build your own business proficiency. From these specialties, you'll gain confidence in a specific area, while exploring new ideas through interdisciplinary coursework and research options.
As an applicant, you can choose the specialization that guides your research interest as well your teaching focus:
Information systems: Learn how existing and emerging technologies impact the context and practice of business.
International business: Understand how firms operate at a global level by delving into political, economic, cultural, and legal influences.
Marketing: Pursue a track in consumer behavior or modeling and strategy, while conducting high-impact research on topics such as consumer psychology, product strategy, or materialism.
Organizational behavior: Study individuals and groups in organizations to grasp organizational influence on economic and societal issues within and beyond the organization.
Operations management: Focus on the production and distribution of goods, services, and information to theorize and understand how companies achieve a competitive advantage through superior capabilities in these areas.
Strategy and entrepreneurship: Address the ways organizations create, capture, and sustain value through theoretical and multidisciplinary empirical approaches to organizational economics and theory.
Find your focus, develop research that sparks change
The PhD curriculum in Business Administration provides a rigorous coursework during the first two years, leaving ample time for you to develop a particular research topic. Within each specialization, students take 12 hours to fine-tune their knowledge on this topic. Additionally, students complete a minor that can come from outside of our Business Administration options.
This knowledge positions you to make the most of future opportunities in research. Take, for example, the information systems specialization, where faculty excel in interdisciplinary research and collaborate with other entities across the Illinois campus—like the National Center for Supercomputing Applications. These types of resources mesh well with our faculty, such as internationally recognized Professor Sridhar Seshadri and expert in optimization methods and applying data analytics and technology to supply chain management.
Our doctoral students enjoy contemporary workspaces in the newly renovated Irwin Doctoral Study Hall, allocated exclusively for doctoral student use.
Rigorous research opens up a world of scholarly opportunities
Our goal is to prepare you to excel at knowledge creation, theorization, empirical examination, and dissemination. You can make the most of this opportunity by committing to a rigorous curriculum and meaningful research. The results prove that you will benefit in a meaningful way: 98% of our PhD graduates have pursued careers in academia since 2005. Their placements include positions with Georgia Institute of Technology, University of Wisconsin, Rice University, HEC Paris, Hong Kong University of Science and Technology, and many more.
Choose Gies to open yourself up to countless possibilities for a future in academics.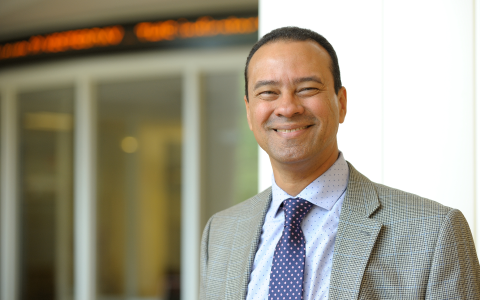 "Our doctoral program positions learners for both immediate and sustained success at top academic institutions around the world. We are proud to offer a program, led by world-class faculty, that provides such vast opportunities for our PhD students to develop as researchers and teachers with an interdisciplinary mindset."
Carlos Torelli, Department Head and Professor of Business Administration and Zimmerman Faculty Fellow