Get to know Gies virtually!
Due to campus policy, large-scale and individual campus visits through University and Gies Undergraduate Admissions have been suspended indefinitely. Visitors will not have physical access to campus residence halls, academic and administrative buildings, faculty, or staff.
We have several virtual options for you to get to know Gies! All of our events will be hosted through the Zoom platform. If you would like to use a Gies Business Zoom background, you can download one here.
We've compiled a list of Frequently Asked Questions you may have prior to your virtual visit.
Gies Experience

Join us for our flagship virtual event focused exclusively on our programs, opportunities, and resources as shared by our Gies family!
Saturday, March 13, 1 - 3 pm CST
Wednesday, April 7, 6 - 8 pm CST
Session includes interactive discussions with faculty, staff, students, and alumni on:
Core curriculum and major selection
Student support and engagement
Career and professional development

Register ›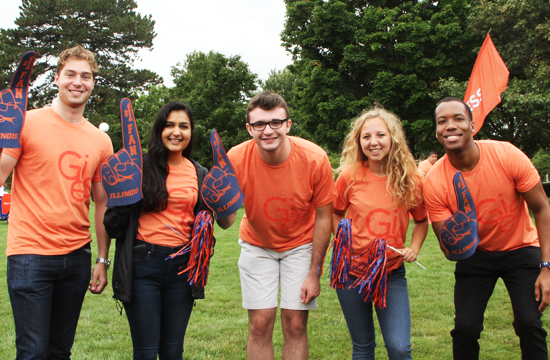 Daily Meetings
Learn more about our programs and opportunities from a current student and the Gies admissions team. You can ask questions, meet your future classmates, and see why Gies could be a great fit for you.
Register ›
Peer-to-Peer Chat Sessions
Schedule an appointment to talk 1-on-1 with a future classmate about academics, housing, student life, or whatever else you like! These conversations will allow you to see a clearer picture of life as a Gies student.

Register ›
Our admitted student webinars this spring are led by our admissions team and feature our faculty, staff, and/or current students.
Out-of-State Webinar: Sunday, March 7, 6 pm CST
International Webinar: Wednesday, March 10, 7 am CST
Appreciating Differences and Fostering Engagement at Gies Business: Sunday, March 28, 6 pm CST
Making a MAJOR Decision in Gies Business: Wednesday, March 31 at 6 pm CST
The Hoeft Technology & Management Program: Sunday, April 11, 6 pm CST
Business on Purpose Discovery Class: Wednesday, April 14, 6 pm CST
Register ›
Gies Shadow Program
Experience a day in the life as a Gies student. This is a unique opportunity to attend a business class and meet with a future classmate.
Learn More ›