Embracing Diversity, Redefining Success
To encourage and support academic success for all students, our Access and Multicultural Engagement (AME) programs were created in Fall 2018 to provide opportunities for mentorship, affinity groups, and community within Gies. Our community groups nurture students and provide safe environments for learning to engage in civil discussions around complex topics, such as diversity, equity, inclusion, and anti-racism.
As a Gies student, AME will have a place for you. The skills and knowledge that AME will help you acquire will last a lifetime. And more and more companies are looking for employees with knowledge in this area. Through AME, you can help yourself grow as a person and prepare yourself for a career that is purposeful and impactful.

AME External Engagement
As part of Gies Business' commitment to better support underserved populations, AME develops programs to reach first generation, low income, international, rural, and historically underrepresented students in Illinois. In AME, we seek to understand and address barriers faced by Illinois' promising and talented students.
The Emerging Business Leaders Program

Our Emerging Business Leaders (EBL) program is a summer program designed for high-achieving underrepresented minority students entering their senior year of high school. Participants live on campus and learn from world-renowned faculty, work on a capstone group project with other students, and connect with corporate executives to expand their knowledge on business-related careers.
Program Activities
Interactive discussions featuring Gies Business staff, students, and alumni around career possibilities in business and the Gies student experience
Learn about college admissions
Have fun and make new friends
Cost & Scholarships
$250 program fee
Students who apply, are admitted, and enroll into Gies Business will qualify for a renewable scholarship up to $5000 to help cover their academic costs.

Application Criteria
The Emerging Business Leaders Program is open to underrepresented students entering their senior year of high school. You must have:
3.2/4.0 GPA or higher
Demonstrated leadership through extracurricular, volunteer, or work experiences
Ability to attend the entire program (June 25 - 30, 2023)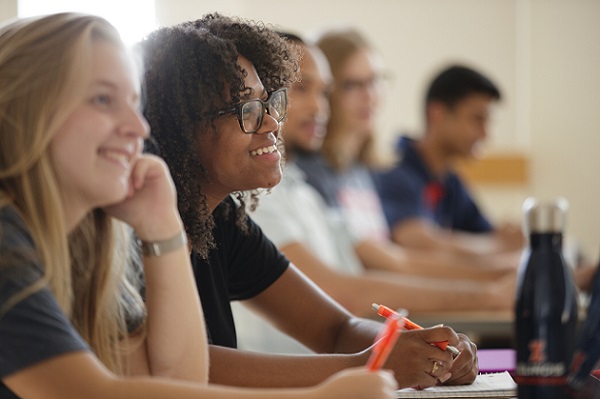 Admission to the Emerging Business Leaders program does not guarantee admission to Gies Business and/or UIUC.
AME Internal Engagement
Through programming and community building, AME strives to:
Develop strategies and initiatives to promote equity and inclusion and support anti-racist programs
Foster a campus environment that supports the exploration of varied identities and their intersections
Increase knowledge and awareness of different worldviews to strengthen cultural competencies and application in a variety of contexts
Create opportunities to engage in challenging conversations to advance a more equitable society
Early Arrival Program
Designed to offer an opportunity for incoming students whom might feel their backgrounds are unique to the Gies community to engage in early, safe, and relational interactions with peers and other Gies community members.
Community Program
Face-to-face, facilitated learning experience that offers meaningful and substantive interaction across differences and represents an opportunity to increase awareness and understanding of societal inequities and their structural causes and nurture an ethos of social responsibility. Gies Community Groups prepare Gies Business students to live, work, and lead in a complex, diverse, and stratified society.