Aug 15, 2022 Student
IlliniBox developing waste-free food container solution for commercial use
A desire to eliminate the mounds of waste from single-use food containers at festivals and events has led to the invention of a reusable cup and container platform that could revolutionize the food service industry.
Grainger College of Engineering senior Justin Holding developed IlliniBox, a service that offers the leasing, washing, and distribution of a fleet of reusable containers. IlliniBox provides operational insights and real-time data tracking to make implementation a convenient and cost-effective endeavor. The containers can be used over 1000 times, and at the end of their life, IlliniBox collects them for recycling or turns them into new products.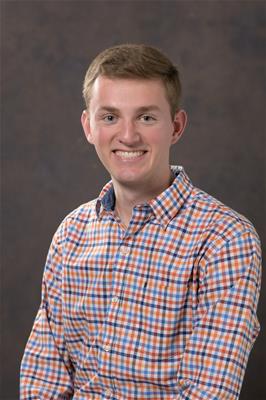 This summer, Holding (right) was accepted into iVenture Accelerator, a cross-campus program housed in Gies College of Business that provides opportunities for student-led startups to create economic and social value. iVenture supports student entrepreneurs, like Holding, with knowledge, funding, and access to the world-class University of Illinois resources and alumni.
"We turned to iVenture Accelerator to help us commercialize this idea that's geared toward creating a culture of reuse throughout the state of Illinois," said Holding, an industrial engineering major who is also part of The Hoeft Technology & Management (T&M) Program. T&M is a joint minor within Gies College of Business and Grainger Engineering that bridges the gap between traditional engineering and business education. One of IlliniBox's early customers was the iVenture Accelerator, where IlliniBox provided over 250 reusable containers for iVenture's Demo Day in Chicago, IL.
"With this one event, we prevented 81 kg of CO2 from entering the atmosphere and 35 cubic feet of material waste from entering the waste stream," said Holding about the polypropylene (plastic #5), NSF-certified, BPA-free, and PFAS-free reusable containers they used.
Growing up, Holding was always interested in entrepreneurship, and it didn't take long for this latest idea to strike. Inspiration hit during his first year as a student at the University of Illinois.
"Although my dad was an avid recycler, it didn't become my passion until I started attending the U of I and realized that most students ate their food out of single-use containers even though they were at a dining hall. This left a heaping pile of bulky food containers in the trash can, ironically located directly next to the dish rack, where reusable plates could be set to be cleaned," said Holding. "Then the pandemic hit, and dining halls transitioned to exclusively single-use containers. I knew there had to be a better solution."
The next year, he decided to tap into the talent at Gies Business, providing opportunities for students to help him grow his business. Through the Magelli Office of Experiential Learning, Holding sponsored a project over two semesters of BUS301: Business in Action. He recruited fellow students to conduct customer discovery research, ideate logistics, and formulate marketing plans.
"With the start of the reusable container program in University dining halls during the Fall 2021 semester, I began working with BUS301 student teams," he said. "The students jumped right into the project and provided key recommendations to optimize the program. Their diligent research, interview insights, and action items are helping shape the program."
He also pooled knowledge and talent from the U of I community, including student researchers, the Institute for Sustainability, Energy and Environment (iSEE), and the Student Sustainability Committee (SSC), among others. Holding now continues to invest time into researching the circular economy, which aims to use materials over again and eliminate waste in any way possible.
"This idea is far more integrated than just composting or recycling. Instead, it entails heavy scrutiny on our production and consumption methods, and how we can transition business models to be more sustainable and aware of the end-of-life of products," said Holding.
The future of IlliniBox will be anchored in their drive to make everything reusable. This includes not only takeout food containers, but also cups, consumer packaged goods (CPG) products, and more. Holding just finished the summer program with the iVenture Accelerator, which helped him perform customer discovery, operate three pilots, and refine his business model. Those activities helped prepare Holding to commercialize IlliniBox on a larger scale to provide reusable packaging for various customers.
"iVenture created a strong ecosystem of founders, resources, and support to accelerate my business and personal growth," he said. "It helped jumpstart my business and provided me with life-long relationships. I am excited to continue participating in iVenture and the entrepreneurship ecosystem throughout the year to further grow and develop IllliniBox."