Talk to a Student Ambassador
Our graduate student ambassadors are available to talk with prospective and incoming students about their graduate program and experience at Gies. Student ambassadors are a great resource to hear about classes, what it's like to live in Champaign-Urbana, how to get involved on campus, and even what to do for fun. They are the best resources for you to get a feel for the culture and atmosphere students enjoy as part of Gies.
Schedule an appointment to speak with one of our student ambassadors.
MS in Business Analytics (MSBA) Ambassadors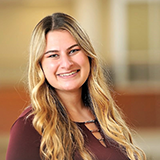 Angela Alburei
Bachelor's in Integrative Biology
I am going into the healthcare consulting and analytics field after graduation. I worked in biological research and healthcare industries during my undergraduate. I had no formal business education before this, so I have learned all my business and analytical skills through this great program. If you have any questions about being a student in MSBA, I would love to talk to you!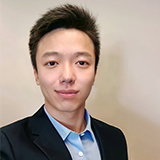 Fengze Han
Bachelor's in Business Analytics
I am from Zhengzhou, China. I worked as a business analyst intern at P&G and as a marketing analyst intern at Hejun consulting company. In the future, I'd like to be a data/business analyst.
KK Venkatesh Kandala Kaustubh
Bachelor's in Computer Science & Engineering
I worked as a decision scientist at Mu Sigma Inc. (T&M Consulting Firm) in Bangalore, India for 3.5 years. I've dealt with clients from pharmaceutical and retail industries. My future plans are to join a MNC and work for their R&D or inhouse analytics team as a senior business analyst.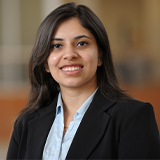 Richa Sethi
Bachelor's in Electronics and Communication Engineering
I am from Punjab, India, and did my undergrad back in 2017, majoring in electronics and communication engineering. I worked as data engineer for four years. I wanted to learn important skills like machine learning and statistics to change my work profile to an analytics or data scientist role. Therefore, I chose to pursue my master's degree in business analytics. With this degree, I'll look for data scientist or data analytics roles.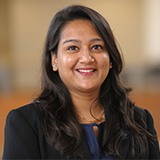 Garima Singhal
Bachelor's in Computer Science
I am from Ohio. I am pursuing a concentration in financial analytics. I have a bachelor's degree in computer science from Wright State University in Dayton, Ohio. After graduation, I worked as a software engineer and then as data engineer at Infosys for about 2.5 years. My near future plans after completing my degree are to want to work as a business/financial data analyst for a financial firm. Moving forward I also want to learn more about new product development and hopefully get a position as a product manager.
MS in Finance (MSF) Ambassadors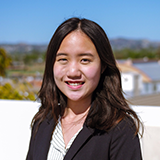 Irene Huang
Bachelor's in Business Administration
I am from Taiwan, and I have been studying in the U.S. since sophomore year of high school. I had internship experiences in both the audit and risk advisory departments at Deloitte and in a bank treasury department. I am currently looking into positions within equity research or as a financial analyst.
MS in Management (MSM) Ambassadors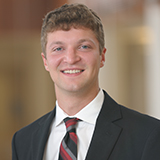 Ryan Banky
Bachelor's in Economics
I am from the southside of Chicago, and I completed my undergraduate degree at UIUC with a major in economics and a minor in business. I have experience in marketing working as a campus ambassador for Monster Energy, some financial experience working in the credit administration for Marquette Bank, and operations/management experience working for East Lake Management at Soldier Field. Currently, I am searching for entry level positions in management and strategy consulting and supply chain management/operations consulting.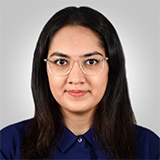 Harneet Gandhi
Bachelor's in Textile Design
Encouraged and motivated, I am looking to expand my career in a variety of ways. I am always interested in networking with other professionals to learn about new opportunities and challenges for professional development. Previously, I worked with Women Weave Charitable Trust, India as an associate textile designer, where I enhanced my leadership and management skills and technical skills. Beyond professional workspace, I am a self-proclaimed artist.
Adriana Guevera
Bachelor's in Spanish & Interdisciplinary Health Sciences
I am a first-generation college student from the southwest side of Chicago. Through my active participation in leadership and service, I have gained some valuable life skills and experiences. During my undergraduate career, I participated in a study abroad experience in Cape Town, South Africa, which broadened my thought process and achieved my passion for helping others. In addition, I was an administrative and clinical student intern at SmileHealthy Promise Healthcare Dental Office. Aside from being a student ambassador, and a full-time student, I currently serve as a resident advisor in developing and maintaining an inclusive, safe, and welcoming environment within the residence halls for all students. In terms of my future career, I would like to become a project manager and continue to help expand my family's small business. I've thoroughly enjoyed my time here at UIUC and can't wait to help you out in any way I can!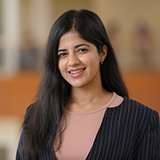 Sonia Vijay Prithiani
Bachelor's in Accounting and Finance
I am from Maharashtra, India, and have worked for almost three years before beginning the MS in Management program. I have worked for two years as an Associate in a Search Consulting firm, which is a very niche form of management consulting. I have also run a franchisee business focusing on retail strategy and operations for a year. I plan to venture in strategy consulting space after I graduate.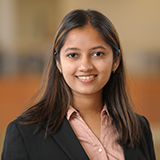 Nidhi Shah
Bachelor's in Geology
I have completed my master's in the field of geology. Post that, I have worked as a visiting faculty and mentor for one academic year before joining UIUC as a MSM graduate student. In the long run, I aspire to open a consulting firm of my own. While in the program, I aspire to gain knowledge of fundamentals of business and gain experience of how corporate world works.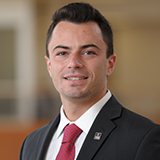 Ryan Winkel
Bachelor's in Recreation, Sport, Tourism
I am from Wauconda, Illinois and during my undergraduate experience, I had a marketing internship with the Division of Intercollegiate Athletics here at the University of Illinois. My time working within the athletic department not only gave me marketing experience but gave me a feel for what it is like to work in an office and with team members on a daily basis. I am currently exploring positions within marketing or data analytics.
MS in Technology Management (MSTM) Ambassadors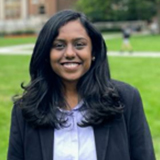 Bhavana Balasankula
Bachelor's in Mechanical Engineering
I have been at Accenture for about three years. I worked on enterprise resource planning (ERP) to deliver Cloud solutions through Oracle Cloud Analytics. I plan to gain experience as an operations analyst, where I can analyze, assess the cost-effectiveness of the supply chain, and expand my capacity to proficiently integrate technical expertise with business competence.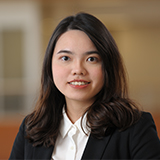 Jo-Chuan (Rose) Chou
Bachelor's in Information Systems
I am from Taiwan. This is my second master's degree. I graduated from National Taiwan University in 2021. I have finished an academic thesis that compares NDFS and SCC-based algorithms for concurrent programs. In addition, I have a graduation project that is the Intelligent Air Quality Sensing and Purifying Rover. In my sophomore year, I was a software engineer intern at Microsoft, and in my senior year, I had a part-time job at TrendMicro.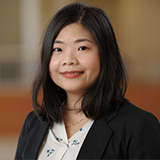 Carissa Huang
Bachelor's in Agronomy
I am from Taiwan. In my graduate study, I majored in agronomy and focus on biostatistics and experimental design. For my professional experience, I have six years of experience as a research assistant for marketing strategy in agricultural products and as a Project Manager for engineering consulting in both private and federal agencies. Over the years, I have gained experience working on data-driven projects and managing strict deadlines in a fast-paced environment. My future career plan is to work in the technology industry with innovative insights based on business intelligence and data analysis.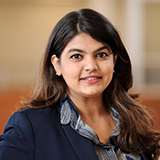 Arushi Kaushik
Bachelor's in Computer Science
I am from New Delhi, India, and I am a computer science engineer with more than three years of work experience at Deloitte. I identify myself as a technology enthusiast, and I am looking for an environment conducive to learning with better technologies to work on and learn from highly qualified professionals from the IT security industry.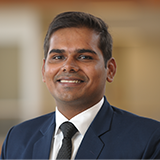 Mayank Tripathi
Bachelor's in Mechanical Engineering
I'm from India, the land of mystery and diversity, and before moving to the US, I earned a mechanical engineering degree and worked at Cognizant Technology Solutions as a .NET developer for two years in Kolkata, India. I enjoy talking and getting to know people. I want to pursue a career in data analytics after my master's degree in technology management.