Join us for the 2020 Gies Business Fair
---
Thursday, January 30, 2pm to 6pm
Activities & Recreation Center (ARC), 201 East Peabody Drive, Champaign, IL.
Registration Fees
Each company may register for one day only.
1 Table with 4 Representatives..............$650
2 Tables with 8 Representatives...........$1,300
3 Tables with 12 Representatives..........$1,950
Government/Non-Profit...........................$300
1 Table with 4 Representatives
Orange & Blue Package............................$3,500
6-8 Tables with 16 Representatives
Limited to 3 packages per day
Block-I Package............................................$5,000
12-14 Tables with 32 Representatives
Limited to 2 packages per day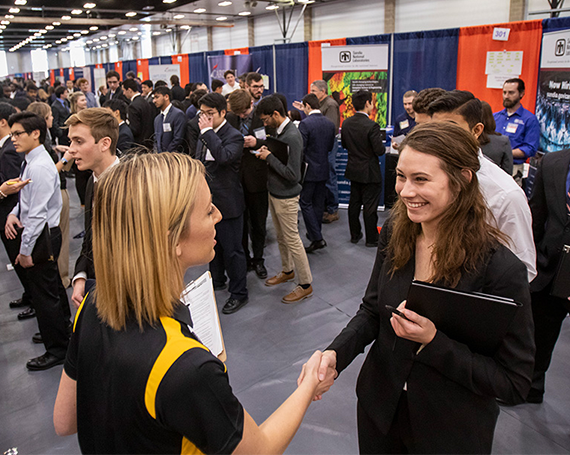 Booth Specifications
Each "table" is a 10' x 10' booth surrounded by pipe and drape.
Each booth includes one 6' draped table and one chair.
Display materials, i.e. banners, must fit within the 10' wide space and may not be taller than 8' high (floor banners may not be placed on top of tables).
Electricity is provided to all booths.
Included in Registration
Lunch prior to the event.
Snacks and beverages throughout the event.
Guest WiFi.
Free parking with shuttle service (see details below).
Services Not Available On-site
Photocopy services are not available at the ARC, so be sure to ship or bring all printed materials. Note that there may be more than 2,500 attendees each day.
Shipping to/from the event must go through a third party vendor (see below), and materials may not be sent directly to the ARC.
Shipping TO the Event
Materials may not be shipped directly to the ARC. Note that ARC staff will reject incoming shipments for the event.
If shipping materials to the event, you must use BestExpo. Contact Career Services for details.
Shipping FROM the Event
Return shipping must be scheduled by your company prior to your departure. UPS and FedEx no longer allow event staff to schedule pickups on your behalf.
You must provide your own return shipping labels as there are no shipping facilities on site.
If you package, label, and schedule pickup, you may leave your return shipment at ARC for pickup the following day. If you prefer, you may drop off packages at any FedEx or UPS drop off site in Champaign, but there are none available on site.
Invoice Information & Cancellation Policy
Your invoice will be in the body of your confirmation email and available on your employer Handshake account.
The cancellation policy is listed on your invoice.

Parking & Shuttles
Free parking is available in parking lot E-14, west of State Farm Center. Park south of the blue line (painted on the ground) in sections 31 and 33. Map Directions
Shuttle vans will run to/from the shuttle lot and ARC beginning 3 hours prior to the event through 1 hour after the conclusion of the event.
Please note that all parking lots around the event location are for permit holders, and you will be ticketed by campus parking if you park in the wrong location.
Gies College of Business and Gies Business Career Services will not pay any tickets or violations incurred due to parking violations.