Virtual information session and updated Spring 2020 policy details are available below.


Transfer to Gies Business
---
The Intercollegiate Transfer (ICT) process is for first-year students who are currently enrolled in an academic program at Illinois and wish to transfer into Gies College of Business.
Illinois students wanting to declare a dual degree in their current major and Business will also need to apply for ICT, as Gies Business would need to be their home/primary college due to course registration restrictions.
Intercollegiate Transfer Quick Guide & Tips
New Spring 2020 Information: Our ICT application timelines will remain in effect. In regards to Credit/No Credit and Pass/No Pass policy changes, ICT application review for Gies will continue to be a holistic review process as outlined below. Credit earned in required courses taken in Spring 2020 for Credit/No Credit or Pass/No Pass will be viewed similar to credit earned for required courses in other ways (AP, IB, proficiency, etc.). Students are encouraged to work with their current academic advisor to determine appropriateness of pursing either a grade or Credit/No Credit for their coursework. In addition, students can receive online assistance for resume and essay critiques through the University's Writers Workshop and The Career Center.

Applications are due by 11:59 pm on May 1, 2020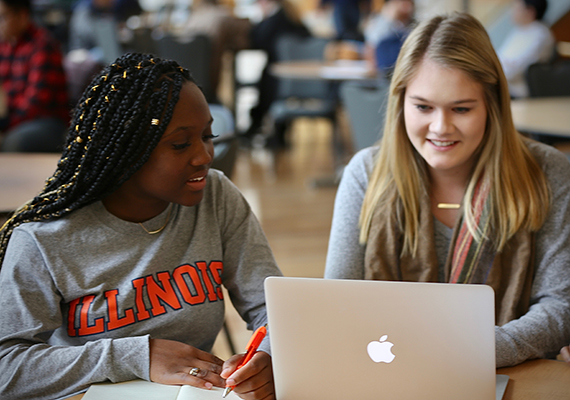 Application Information

ICT applicants apply directly to one of the following Gies Business majors:

Students are not able to apply for Business-unassigned or Supply Chain Management. Admitted ICT students would still be able to change their intended major during their sophomore year. Individuals who want to apply for Supply Chain Management program admission can do so once they are a student here in Gies Business.

NOTE: The information below is specific to the ICT application process for Fall 2020 admission.
Academic Requirements

In order to apply, you must be a first-year current student and be in progress of completing at least 24 credit hours within two full-time semesters at the University of Illinois at Urbana-Champaign. Due to space limitations, you are not eligible to apply for ICT if you have taken more than two semesters of full-time coursework at Illinois or have already completed the off-campus transfer admissions process and are enrolled in another program at Illinois.

The following courses must be completed by or in progress during the Spring 2020 semester before applying for Fall 2020 admission. Courses are considered complete by having taken the course or its equivalent at Illinois or another institution or through AP/IB test score credit.

Required Course Completion

Composition I

ECON 102

- Microeconomics

(ACE 100 can be substituted)

ECON 103 - Macroeconomics

Calculus, Business Calculus; or math sequence leading up to Calculus

based on ALEKS placement exam

Recommended Courses

Courses can be considered complete by taking the course at Illinois, at another institution, through AP/IB test score credit, or other avenues.

CMN 101 – Public Speaking:

You should talk with your current advisor if you plan on taking CMN 111 and CMN 112 to meet the Rhetoric requirement prior to signing up for CMN 101.

Language other than English:

Gies Business has a graduation requirement for students to have completed four years of a language other than English in high school or through the 4th level in college OR the 3rd levels of 2 languages between high school and college. If you have not yet reached this level, we recommend working with your current academic advisor and taking courses your freshman year to help you move toward meeting this requirement.

Other Courses

Aside from the required and recommended courses for transfer listed above, we suggest that your schedule of courses reflect the requirements of your current major. It is not necessary for you to enroll in additional Business Core courses during your freshman year, as enrollment in those courses will not increase the likelihood of ICT admission. Please consult with your current academic advisor to determine your course schedule.
Deadlines & Timelines

March 1 – May 1, 2020


Students apply for ICT during the spring semester their freshman year at Illinois to be considered for fall admission to Gies Business. Application review will begin once spring semester final exams and grades are complete at the end of May. Students will be notified of their admission decision by late June 2020.
Application Process

Timeline: The online submission portal for ICT Fall 2020 application is available March 1 – May 1, 2020.

Application Review: The ICT admissions committee utilizes a holistic review process to review applications, meaning that all of the components listed below are considered. No high school grades or ACT/SAT/TOEFL test scores are used for review. There is not a minimum GPA requirement for ICT admission; however, admission is competitive and based on the applicant pool.

Attributes: In addition to strong academic performance, Gies Business values true engagement and involvement– students who have made a positive impact in the organizations they belong to and activities they participate in.

Items automatically included in your application:

Your name, UIN, and permanent address
Your current academic unit/major
Your completed credit hours, GPA, courses taken, and course grades
Outside college credit received

Items you will need to provide in your application:

Your requested major in Gies Business

(Unassigned and Supply Chain Management are not available options)

A professional resume:

Your resume should highlight your skills and experiences. It can include both college and high school activities and involvement, but should more strongly emphasize your college experiences. You should list the GPA you have on your academic record at the time you apply; do not list an anticipated GPA. Our office will include your official GPA on your application once spring semester grades are finalized. We encourage you to utilize the University Career Center or your college/department's career services center to have your resume reviewed prior to submitting your application.

A list of up to three extracurricular activities and involvement during college that are most important to you

Personal statement (200-400 word limit):

What are your personal interests and passions? What makes you unique?

Professional statement (200-400 word limit):

During your time in college, how do you want to grow personally, and how would you like to develop professionally? In other words, what are your aspirations and goals?

Additional statement (optional):

You should provide an explanation and additional information in this statement if you: 1) would like to explain lower academic grades and/or circumstances that affected your academic performance; 2) will not complete one or more required courses prior to the end of this spring semester; or 3) have unique, personal information that you would like the admission review committee to consider during the review process. Please limit your response to 500 words or less.
Academic Planning Assistance

Work closely with your current academic advisor to learn more about transfer requirements and course registration.

Contact our Gies Undergraduate Admissions team if you have logistical ICT questions (about the application, requirements, deadline, etc.).

Attend one of the ICT information sessions led by Admissions staff each semester.

For fall course registration, you should sign up for classes based on conversations with your current advisor, as if you were continuing in your current program/academic unit. If you are admitted, an academic advisor here in Gies will review your schedule and then contact you about the needed changes. We hold spaces in specific courses for ICT students, so you will be able to get into the business classes you need for the fall without worry.
Virtual Information Sessions
Join us for an ICT information session this spring. Sessions typically lasts 30 minutes, and all sessions provide the same information. Attendance is neither required nor a factor in a student's admission decision.

Date: Wednesday, April 8
Time: 3 pm via Zoom
Register Now
Date: Thursday, April 16
Time: 5 pm via Zoom
Register Now