Oct 25, 2023 Business Administration Faculty Research in Education
Easy Does It — Using Simple Rules to Solve Complex Business Problems
During the space race that consumed much of the 1960s and 1970s, a myth developed that captured the stark difference between the two main opponents, at least when it came to problem solving. To develop a writing tool that would work in zero gravity, the Americans took a technical approach, spending years of research and millions of dollars to develop a pen that could write upside down and endure the extreme conditions of space. The Soviets, on the other hand, just used a pencil.

While the popular story took many liberties with the truth, the moral still holds true. When it comes to solving problems, sometimes the simplest solutions are best.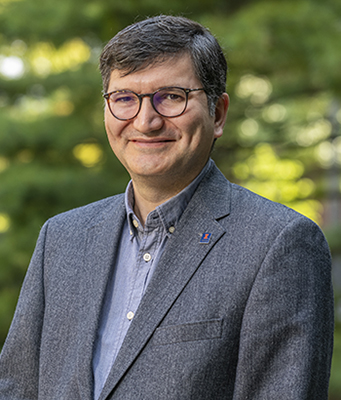 In "Less Can Be More: How to Make Operations More Flexible and Robust With Fewer Resources," Gies Teaching Professor Cagri Haksoz explored this concept in a business context. More specifically he studied supply chain risk management and whether simple rules of thumb could be more effective than complex models used for decision making – and if this could also reduce the need for resources like money, time, and advanced computational efforts.

In 2011, a major event in Japan revealed the importance of dual-sourcing in supply chains. A massive tsunami damaged a company supplying 70% of a polymer used in mobile device batteries and snarled global supply chains.

In his research, Haksoz studied how various companies developed dual-sourcing models to alleviate that problem, then created a simple decision tree that could help others diagnose and manage their supply chain risks. But how do simple formulas like this compare with their more advanced computational counterparts? According to Haksoz, - who joins Gies' Department of Business Administration - the answer is "surprisingly well," if used diligently.

Using empirical evidence, Haksoz discovered that, in dynamic environments with high uncertainty, those simple rules outperformed more complex models while also being easier to implement and understand. In more stable environments with less uncertainty, however, complex models, which rely on big data and advanced computations, could still have an edge in situations where objectives, actions and consequences can be better estimated.

"All contexts are different," said Haksoz, who published his first book on risk intelligence more than a decade ago. "You have to think at a holistic level, so you can't just try to find one context and then find one rule. The context evolves, so your rules and models also have to evolve." However, said Haksoz, research shows that being open to simplicity could help companies achieve their goals while also lowering costs.

Haksoz, who holds a PhD in operations management from NYU's Stern School of Business, says he came to Gies because he was ready for a new challenge. After years of teaching in large cities like London and Istanbul, he was also looking for the kind of laid-back living that Champaign-Urbana provides. With Gies, he gets the best of both worlds — the joys of smalltown living and a school that's always thinking big.

"What I've found is much more interesting than what I expected," said Haksoz. "I've seen these really key innovations in terms of teaching and managing a school." This includes the College's online programs – an online MBA, master's in accounting, and master's in management – that draw innovative business leaders from around the world.

He was also intrigued by the fact that Gies employs a chief disruption officer — an associate dean whose sole job is to help the school pioneer leading-edge breakthroughs. "I haven't seen that kind of role in a business school in my life," said Haksoz. "But that exists here at Gies."

Haksoz said he was also impressed by the caliber of the students and the variety of courses within his chosen field. At Gies, supply chain studies cover a wide range of topics, encompassing everything from purchasing to data analytics and logistics management.

"There is a focus in this area that I haven't seen in my 20 years in the academic world," said Haksoz. "Not only is that very useful, but it also gives me the chance to create something interesting. So, this opportunity excites me."

Ultimately, Haksoz said he wants to create value with his work, which is something that wasn't easy to do in countries with more traditional teaching systems. "I understand that the environment imposes that," said Haksoz. Nevertheless, it wasn't the best fit for someone who prizes innovation, creativity, and intelligent risk taking.

"I'm trying to find my real academic home," said Haksoz. "And I hope I've found it here."