Feb 12, 2020 Accountancy Alumni Business Administration Faculty Finance Student
Don and Anne Edwards support Gies Business with $7 million investment
Gies College of Business alumni Don Edwards – chair of the University of Illinois Board of Trustees – and his wife Anne have announced a $10 million gift to the University of Illinois, $7 million of which will support scholarships and initiatives within Gies Business. The gift is the largest ever by University of Illinois trustee.
The Edwards family will invest $2 million toward merit scholarships for Gies College of Business students with a goal of ensuring the very top students choose Gies. These scholarship recipients will be known as Edwards Scholars, in recognition of the Edwards' support of the College.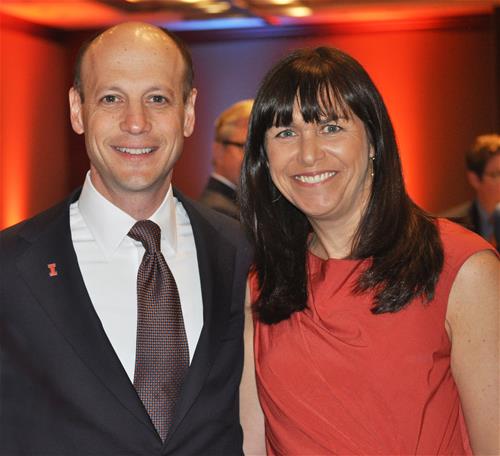 The gift also provides significant support for the relationship between Gies and the Discovery Partners Institute (DPI), a world-class research and education center led by the University of Illinois System. The Edwards are donating $3 million to support Gies faculty working at DPI in Chicago, and another $2 million will go toward a DPI-Gies Technology/Innovation Fund, which will support facilities and innovative programs. DPI is a purpose-driven, collaborative research institute focused on building prosperity for all and growing the state's workforce by creating solutions to grand challenges.
"The Gies Business-DPI partnership is a powerful opportunity to drive innovation and growth throughout our state," said Don Edwards. "I am excited that this gift will promote research and new ideas within the College and enhance Gies' entrepreneurial mission. Anne and I are so pleased to play a part in helping this vision become reality."
"Don and Anne understand the need for a technology magnet that makes it attractive for young talent to stay in Illinois, like he did 20 years ago," said Bill Jackson, interim executive DPI director. "They truly recognize why it is so important to make it easier for companies to locate their high-tech, high-paying jobs in Illinois."
The Edwards gift helps catalyze further innovation within Gies College of Business, which along with creating access and fostering excellence, is among the College's top strategic priorities. Support for Gies innovation helps the faculty develop and deliver leading-edge curriculum, provides powerful experiential learning opportunities for students, and prepares tomorrow's business leaders with the most in-demand professional skills.
"Innovation is woven into everything we do here at Gies, and gifts like this help us stay on the leading edge of business education," said Jeffrey R. Brown, Josef and Margot Lakonishok Professor of Business and Dean. "The world is rapidly changing and so are the skills students need to be successful in the workforce. We are providing an immersive educational experience, which prioritizes business analytics throughout the curriculum, ensuring that our College and our students are duly recognized as innovators, leaders, and problem solvers."
Don (FIN '88) and Anne (ACCY '88) both graduated from Gies College of Business and have lived in Chicago for over 25 years. Don graduated from Gies with highest honors and was a Bronze Tablet recipient in addition to being a four-year letter-winner on the men's golf team. He went on to earn his MBA from Harvard Business School with Baker Scholar distinction in 1994.
In addition to serving as chair of the University of Illinois Board of Trustees, Don is the CEO of Flexpoint Ford, LLC, a private equity investment firm focused on healthcare and financial services that has raised more than $5 billion in capital. Prior to founding Flexpoint Ford in 2005, he worked in private equity as a principal for GTCR, a leading Chicago-based firm, and served as an investment banker at Lazard, Ltd. He also serves as a commissioner of the Chicago Park District, trustee of the Museum of Contemporary Art, director of Lurie Children's Hospital of Chicago, director of World Business Chicago, and chairman of the finance and audit committees of the board of the PGA of America.
After graduating from Illinois, Anne earned her CPA and was controller of the Lyric Opera of Chicago until her retirement. She still serves on the women's board executive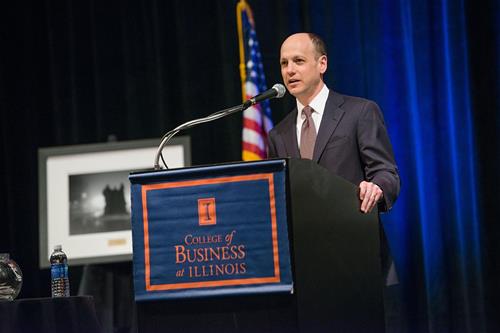 committee of the Lyric Opera, and she also serves on the Gies Business "With Illinois" campaign steering committee. "With Illinois" is the University of Illinois at Urbana-Champaign's largest campaign ever. With this gift, Gies Business will have achieved 87.5% of its $300 million fundraising goal to support Gies students, faculty, innovation, and infrastructure.
"Gies College of Business is rightfully being recognized as a world leader in innovation, which further enhances the University of Illinois at Urbana-Champaign's sterling reputation," said Chancellor Robert Jones. "Both Don and Anne are extremely generous with their time and resources. I'm so grateful for the tremendous role they play in supporting the well-being of our students and in advancing this entire university."
In addition to their generous investment in Gies Business and DPI, Don and Anne are also providing a $3 million gift to the University of Illinois Department of Intercollegiate Athletics. The Edwards family will invest $2 million toward the renovation and expansion of the Ubben Basketball Complex, and $1 million toward the Fighting Illini men's golf program. These gifts are in addition to previously endowed scholarships for Gies and the University of Illinois men's golf team.