Sep 26, 2023 Accountancy Alumni Business Administration Faculty Finance Student
Brown announces plans to step down as Dean of Gies College of Business
Dr. Jeffrey R. Brown, Josef and Margot Lakonishok Professor in Business and Dean of Gies College of Business, has announced that this academic year will be his final year as dean. He plans to step down in 2024 after his successor is found. Brown joined Gies Business in 2002 and has served as dean since 2015.
"Gies College of Business is a special place. When I joined the faculty in 2002, I had no idea just how much I would come to genuinely love this College, this university, and this community," Brown said. "The last eight years as dean have been the most rewarding years of my entire career."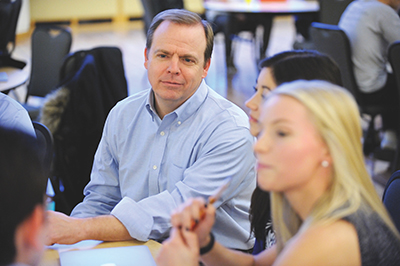 Brown was appointed as the College's tenth dean in 2015 and reappointed for a second term in May 2020. During his tenure, Gies has reimagined its undergraduate and graduate programs to serve more learners than ever before. The College has pioneered a new future in online education, showing the world what is possible when access is a top priority. Dean Brown also completed the largest fundraising initiative in the history of the College – a staggering $350 million. But perhaps of all his accomplishments, he will be most remembered for ushering in the largest single gift in the history of the University of Illinois – a $150 million naming gift from Larry (ACCY '88) and Beth (ACES '89) Gies in 2017. For his efforts, Brown was named the 2021 Dean of the Year by Poets&Quants.
"We have accomplished so much together over the last eight years, and now we have started the next chapter with Wymer Hall going up in the spring," Brown said. "This marks a wonderful time to transition to a new dean so they can open our beautiful new facility and deliver the next round of innovation."
When Brown became dean in 2015, he set forth a clear vision of what he wanted the College to achieve. It started with three key commitments: Access, Innovation, and Excellence. A promise to create life-changing access to education; a pledge to unleash a wave of innovation unlike any business school has ever seen; and a commitment to investing in excellence by hiring more faculty and supporting them and their research in every way possible. In recent years, Inclusion and Engagement have become core commitments – being a place where all are seen, heard, and valued, and facilitating meaningful, lifelong engagement in pursuit of a shared purpose.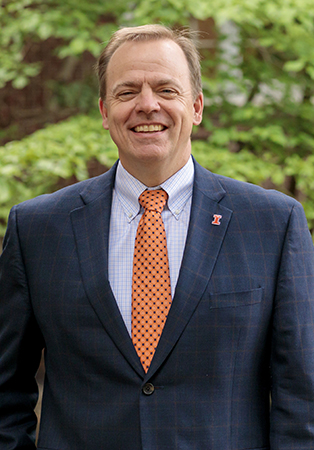 "I don't know what my future holds. Over the next year, I intend to speak with many other thought leaders about where higher education is heading and how we can continue to shape that future for the betterment of society," Brown said. "Gies College of Business is in a position of unbelievable strength. I owe so much of that to my predecessors, including Larry DeBrock and Avijit Ghosh, who built such a strong foundation. All the ingredients were here for success, and we're in an even stronger position now."
Perennially ranked among the top 10 undergraduate public business schools in the nation, the College got its "Gies" name in 2017 thanks to a $150 million naming gift from alumnus Larry Gies and wife Beth. Under Brown's stewardship, the Gies' gift has given the College the ability to substantially increase its investment in scholarships for undergraduate students, making substantial progress toward the goal that all high-achieving students can attend Gies College of Business regardless of their financial circumstances. The gift also allowed the College to invest in faculty who are conducting leading-edge research in both traditional and trending fields of business.

In addition to serving as dean, Brown is also a professor of finance and was the founding director of the Center for Business and Public Policy. Previously, he has served as a senior economist with the White House Council of Economic Advisers. He earned his PhD in economics from MIT, his MPP from Harvard, and his BA from Miami University (Ohio).

The University of Illinois will begin a global search for the next dean.