Apr 25, 2022 Accountancy Alumni Business Administration Faculty Finance Student
It's Time to Transform Higher Education
By Jeffrey Brown, Dean of Gies College of Business, University of Illinois
NOTE: This is an opinion piece authored by Gies College of Business Dean Jeffrey R. Brown about the state of business education and future opportunities for schools willing to act boldly and adapt. You can read Dean Brown's full white paper "It's Time to Transform Higher Education" by clicking here.
Not too long ago, Blockbuster Video was an integral part of American culture. Its aisles were packed with customers perusing the boxes of movie rentals. But disruption came in the form of online streaming and the company was unable to pivot, leading to business irrelevance and its current status as pop-culture punch line.
That same irrelevance is the fate that could meet higher education institutions who don't recognize and embrace the forces of disruption all around us.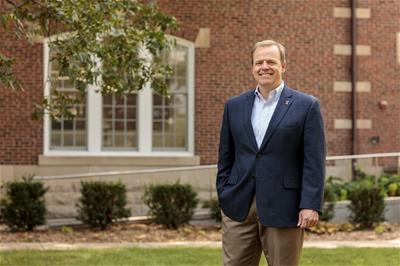 The education market is changing right in front of our eyes, but too many colleges and universities remain rooted in the same practices and business model they've kept in place for literally centuries. Leaders in higher education must innovate and adapt now — or perish. In other words, higher ed institutions must become more like Netflix and less like Blockbuster.
Today's dizzying pace of technological change also means that students must learn new skills to stay current in the market. Areas such as data analytics, machine learning, augmented reality, blockchain, and quantum computing are transforming jobs, organizations, and industries at an unprecedented rate.
The idea that one can earn a degree at the age of 22 and be set for a career — with maybe a single break for a graduate degree — has become as antiquated as a pocket watch. Instead, the educational journey should look less like a structured pipeline and more like a braided river, with multiple entry points and distinct routes that repeatedly join and separate, according to an article earlier this year in Eos. This stream would flow at different speeds for different people, but would ultimately lead to the same place.
To be clear, college degrees will not go away. But as education providers, we need to broaden our array of educational products and credentials to meet the needs of 21st-century learners. And we need to do so in a way that expands access and makes high-quality learning available on a global scale.
We know that a full degree isn't for everyone. Often, learners simply need to upskill in one area. At the University of Illinois' Gies College of Business, our online graduate programs are stackable, which allows learners to start with just the content they need— no more, no less. Then they stack those pieces together in different ways and build out the type of education that fits their goals.
Recently, we received Illinois Board of Higher Education approval to launch a series of online graduate certificates. These are for-credit credentials that are not degrees but are recognized by the university. We're offering eight of these graduate certificates — each one consisting of 12 credit hours of coursework with the same rigor as our degree courses.
Not only will these options serve learners seeking short, standalone credentials, but they also provide an option to stack those credentials into a degree program. A learner can complete one 12-credit-hour certificate, and then if they decide to pursue a Gies MBA, they can stack that credential into the MBA without having to repeat the courses or pay unnecessary tuition. And because these are for-credit, learners may be eligible for loans or tuition reimbursement from their employer.

Cost has been a major barrier for too long, and tuition at four-year institutions skyrocketed by 1,200% between 1980 and 2020 after adjusting for inflation. At Gies, our online MBA (known as the iMBA) costs less than $23,000 — a small fraction of the cost of a typical MBA. And our graduate certificates are even more cost effective than that, averaging just a few thousand dollars. I'd encourage other higher ed leaders to think creatively about how to make the education they provide more expansive and less expensive. Deans and other higher education leaders also need to take a clear-eyed look at our attitudes toward accessibility. Too many leaders have manufactured — and celebrated — scarcity by creating an environment that encourages rejection.
The fact is that institutions and their leaders need to embrace this new world that technology is opening for us to drive down costs and expand access. Through high-quality online programming – that is as engaging or perhaps more engaging than residential programs – we can deliver a life-changing education to anyone, anywhere. And this same technology allows us to operate at scale, which means we can provide valuable educational opportunities to learners at a much lower cost.
Ultimately, higher education providers must evolve so that people around the globe have multiple streams that can serve as an entry point into the educational river. This would allow learners to weave education with their careers and their lives at a time, place, and pace that suits their complex lives.

I know first-hand from my experience at Gies that it is possible to provide high-quality, engaging, and affordable higher education in a way that delivers results for learners, faculty, and the broader institution. We can transform lives if we're willing to think about higher education delivery in a different way — one that doesn't cling to an obsolete business model of the past, but that embraces the future.
–Jeffrey Brown is Dean and Josef and Margot Lakonishok Professor at Gies College of Business, University of Illinois