Aug 18, 2020 2020-08 Accountancy Alumni Business Administration Faculty Finance Student
Loyd, Wilkins to lead Gies' equity and inclusion initiatives
Dr. Denise Lewin Loyd, associate professor of business administration, has been named the first associate dean for equity at the University of Illinois' Gies College of Business. In this new position, Loyd will help Gies become a leader among business schools in diversity, equity, and inclusion by leading the College's DEI strategy, aligning that strategy with university priorities, and implementing the recommendations of College leadership and related working groups.
"I am thrilled that Denise Loyd has agreed to take on this important role in our College," said Dean Jeffrey Brown. "She is unquestionably the best person to serve in this position due to her proven leadership capabilities, her research and professional expertise in this area, and the extremely high regard in which she is held by her colleagues. Under her leadership, we look forward to making Gies a model for creating a diverse, equitable, and inclusive community."
Professor Loyd joined Gies Business in 2013 after eight years as an assistant professor and untenured associate professor at MIT's Sloan School of Management. Her research specializes in organizational behavior and group dynamics, focusing on status, diversity, social identity, and ethics as they relate to groups. In 2019, she received a Campus Distinguished Promotion Award, which recognizes scholars identified by the Campus Committee on Promotion and Tenure as demonstrating extraordinary quality of work and overall achievement.
"I am honored and excited to serve Gies in this new way," said Loyd, who earned her PhD in management and organizations from Northwestern University's Kellogg School of Management. "The creation of this role is an important step for the college. With hard work and creativity, I know we can make Gies a leader in equity, diversity, inclusion, and anti-racism. Research shows how much we all have to gain by increasing representation and valuing the different perspectives and contributions each of us brings to the table. I look forward to working with all who identify with and love this college to create an even brighter future."
"Creating this new role is just one sign of our commitment to making changes at Gies," said Brown. "We have made DEI a strategic priority here in the College, and I look forward to developing a clear strategy and using evidence-based approaches with measurable goals to expand our efforts and become leaders in this area."


Wilkins named Gies' Director of Leadership and Culture
LaTonya Wilkins has been named director of leadership and culture at the University of Illinois' Gies College of Business. In this new role, she will partner with Dean Jeffrey Brown, Associate Dean for Equity Denise Lewin Loyd, and others to put the College-wide anti-racism, diversity, equity, and inclusion (DEI) strategy in motion.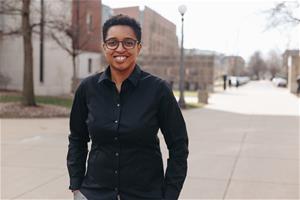 "I am honored to be partnering with Gies to advance our organizational culture, whichplays a role in everything we do," Wilkins (right) said. "My passion for working with clients in coaching, culture, and organizational change capacities provides me with unique insights that I will bring to this role. Let's work together to create the bright future that we all want to experience."
Wilkins will co-lead the DEI culture committee, be an active member of the College steering committee, and oversee the creation of College-wide affinity groups. She will also continue to focus on broader leadership development, leadership coaching, and culture strategy at Gies. Wilkins served as Gies' director of talent management for the last four years. She earned her bachelor's in psychology at the University of Iowa and an MBA from Indiana University's Kelley School of Business.
"Latonya Wilkins has been an invaluable part of our team at Gies for the last four years, and I'm excited to see what she will help our College accomplish in this new role," said Dean Jeffrey Brown. "Latonya has an intense passion for leading, coaching, and helping people from all backgrounds maximize their personal and professional potential. She'll be a great fit as our director leadership and culture."