Gies, Busey helping prepare next generation of investment professionals
Through a unique, student-centered partnership, Busey Bank and the University of Illinois' Gies College of Business are working in tandem to prepare tomorrow's purpose-driven business leaders with the tools and practical skills they need to succeed. And it's all centered around a topic both sides know extremely well—investment management.
Busey has joined on with Gies' Investment Management Academy (IMA), an academic program that provides select students with institutional investment experience and the opportunity to manage more than $1 million of University of Illinois Foundation assets for a truly real-world experience.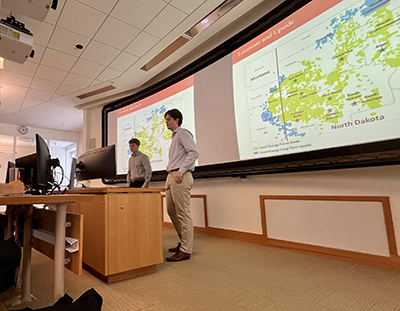 As part of the program, students take on all the responsibilities expected of analysts in a fund management environment. Members of the Academy conduct industry research, prepare qualitative and quantitative assessments of investment candidates, present investment recommendations, conduct due diligence on investments, oversee trading, manage industry concentrations, and report on fund performance. Participation in the Academy results in practical feedback from fellow senior members and alumni of the program, who through internships and experience sharpen students' skills in industry analyses, company valuation, modeling and forecasting techniques, and the practical use of multiple equity research and multiple information databases.
And that's where Busey comes in.
"The Investment Management Academy reached out to Busey to ask if we wanted to be a part of the program, and be a resource for the students, showing them real-world investment reporting and investment management efforts, basically how managing investments works in actual practice. And we jumped at the opportunity to help," said Bob Ballsrud, executive managing director, wealth advisory at Busey, who is a Gies Business alumnus with a degree in finance. "As part of this relationship, we also value the opportunity to come in periodically to be a resource for the students and get to know them so that when they graduate and are looking for internships or full-time positions, we're an option for them as a robust investment management team, not just the local bank."
Thanks to Busey's support, students in the IMA manage their portfolio on the Busey platform. This contribution means the world to the students involved -- students like Max Beach.
Originally from the Chicago suburb of Oak Park, Beach came to the University of Illinois to major in economics. He developed a love for working with stocks and soon realized he could make a career of it. He discovered the Investment Management Academy, but since he was not a Gies student (Economics is housed in the College of Liberal Arts & Sciences), he didn't have the prerequisites to get in. So, he taught himself the accounting and finance basics that he needed to earn admission in the IMA. Now, less than two years later, he's the president of the organization and just completed an internship with Susquehanna International Group in New York City.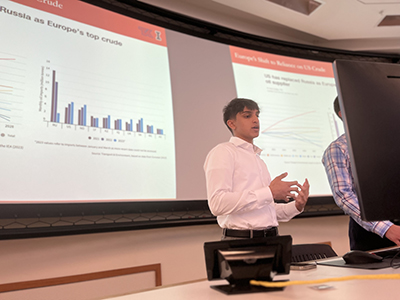 "The Busey platform has been an incredible resource for us," said Beach. "We're constantly able to monitor our investments and check how balanced our portfolio is. And what's really cool about it is we can see all the transactions we've done in the past and revisit some past decisions. Busey is our scoreboard."
And that scoreboard has been very friendly to the IMA. In fact, Gies IMA students have consistently outperformed the index over the past five years.
"While many colleges and universities have extracurricular programs to help students prepare for careers in investment management, Gies' IMA is one of a select few that are part of the structured curriculum," said Rich Excell, co-director of the Investment Management Academy. "The IMA has clear standards of performance, and unlike most other programs, our students do much more than stock pitches. They take on all of the responsibilities expected of analysts in a fund management environment, preparing qualitative and quantitative assessments of investment candidates, conducting due diligence on investments, and reporting on fund performance."
Excell also mentioned the importance of Busey's presence on campus, which is vital because Gies students are in high demand. With job placement rates for Gies graduates consistently in the high 90s, it's critical that firms establish a brand presence on campus. For the past several years, Busey has regularly attended career fairs and employer showcases on campus.
"Careers in securities analysis and portfolio management are highly competitive and highly sought after," said Excell, who combines with his co-director Mike Vitek to bring more than 60 years of experience into the classroom. "Students in our Investment Management Academy put themselves in the best positions to compete for top jobs, and they're prepared to excel in those positions from day one."
"A partnership with a top tier business school and university brings a lot of quality opportunities," said Busey Chief Investment Officer Zach Hillard. "Most important is the opportunity to help a large pool of students who are excited about learning how investment management works in a real-world setting. At the same time, we can let them know about our investment team and some of the great opportunities we have to offer associates here at Busey."
"Gies is one of the top accounting programs and top finance programs in the country," added Ballsrud. "These are incredibly talented students that we have the opportunity to engage with. We can discuss investment management in general, how we would look at their portfolio from our perspective, and then have the opportunity to give a performance review for the students at the end of the semester."
And that's paying off for dozens of students every year.
"When you're looking at really good hedge fund jobs, it's typically Ivy Leaguers that get the best ones. IMA has leveled the playing field for us," said Beach. "I've been able to hit the ground running in my internships, contribute to projects in meaningful ways, and build my own models. With the support of our faculty, alumni network, and corporate partners like Busey, we're going to continue pumping out graduates prepared to land some of the best jobs in the country."