Mar 24, 2023 Faculty Finance Student
Women in Finance Academy empowers women, fosters lasting connections
Like many first-year students, when Gies Business senior Izabela Kwietniewski first came to campus in 2019, she was looking for something to be a part of.
What she found was the Women in Finance Academy, an organization that not only helped her gain a sense of belonging but also helped her land her first internship, choose her career path, and become a mentor to other women starting their college journeys.

"I just saw this community of women who were really trying to build something meaningful from scratch," Kwietniewski said of how she chose to sign up for the organization during her first Quad Day. "I think just connecting with them, talking to them, and realizing how nice they were, that was kind of what drew me in originally. And I knew finance was a potential major I was interested in, so it seemed like the perfect place for me to explore my interests and meet like-minded people."

The Women in Finance Academy, then a registered student organization, has since developed into a full academy at Gies Business. It connects women pursuing finance degrees with guest panelists, support, and professional development opportunities – helping prepare them to be leaders in the finance industry. The academy also introduces members to a variety of finance roles.

Julia Hart, site director of Country Financial DigitaLab at the University of Illinois Research Park, serves as director of the Women in Finance Academy and teaches the corresponding semester-long course, which meets once a week and gives members one full credit.

"Many times in your career, you're going to find yourself as the only woman in a room," Hart said of a career in finance. "I think the goal of the academy is to not only introduce people in the class to different careers available in finance but also to help them learn how to overcome challenges that come up for women. It's really a way to empower them and give them a voice to be able to speak up to those things."

Kwietniewski's Quad Day decision in her first year at Gies Business led to an engaging four-year experience. As a senior, she now gives back to the organization by serving as president of the academy, where she works closely with Hart to plan content and events that help members gain confidence, skills, and connections for their future careers.

"Being in a field that's very male-dominated, it's really easy to get intimidated or think that you're not as knowledgeable or maybe don't have the right skills," Kwietniewski said. "I just really want these women to know that they can achieve their goals and figure out who they want to be without the external pressures and intimidation when trying something so new."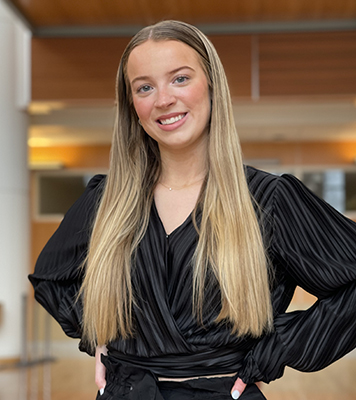 Kwietniewski (right) credits a Women in Finance Academy networking event with helping her get her first internship, which in turn, led to her decision to pursue a double major in finance and information systems. She also credits the academy with helping her gain more confidence in herself – something she said she struggled with as a child, even though she always felt driven.

Kwietniewski's parents moved from Poland to the United States just before she was born. Her dad started a construction company, and she helped him with the language barrier between him and his clients early on. She said the early introduction to her dad's business sparked her desire to pursue a business degree and that her parents' sacrifices helped motivate her throughout her education journey.

"Since I was young, I was extremely hardworking and determined, just because I knew the sacrifices they made," she said. "I think ultimately, that's what's led me to where I am today. I've always been very driven because of them."

That drive motivates Kwietniewski to continue to grow and share what she's learned with underclassmen in the academy. She attributes her decision to apply for the presidential role to her time collaborating and learning from the academy's former president, 2022 Gies Business graduate Caileigh Kengott, explaining that working closely with Kengott when Kwietniewski was the academy's vice president of communications helped prepare Kwietniewski for the role of president.

Kwietniewski still reaches out to Kengott for advice, and Kengott, who also earned degrees in both finance and information systems and now works at PwC, has continued to stay connected with past volunteer panelists as well.

"It's just great having the connections," Kengott said. "I think volunteer panelists really value giving back and the whole mission of the Women in Finance Academy. I hope it continues to thrive and grow as much as it has in the past few years."

The Women in Finance Academy offers members opportunities to learn from mentors and become mentors themselves. And there are opportunities to continue the relationship after graduation – as guest panelists, speakers, or participants in networking events.

"What makes the academy so special is that it's a community of driven and supportive women," Kwietniewski said. "It's not just a class or an organization. It's really a huge group of girls who have a passion and curiosity for finance and strive to build themselves as both a professional and a leader."

With a full-time job in commercial banking waiting for when she graduates, Kwietniewski expressed her pride and gratitude for the Women in Finance Academy and all it has achieved.

"It's been a great experience," she said. "It's kind of bittersweet to end it after four years, but I'm glad I was able to make an impact."

To learn more about the Women in Finance Academy, contact Director Julia Hart at hartja@illinois.edu.