Jan 30, 2023
Gies Business focuses on "Thriving as Resistance" for Black History Month
This Black History Month, Gies College of Business will highlight and honor the importance of "Thriving as Resistance," a concept that weaves together history with current concerns.

"Resistance against injustice and inequality is a hallmark of the struggle for civil rights," said Denise Lewin Loyd, associate dean for equity at Gies Business. "One outcome of injustice – in the past and present – is to make targets of injustice feel small and reduce their opportunities. Thriving is about flourishing, growing, and prospering. The theme is a reminder that through nourishing and taking care of ourselves, each other, and our communities, we can see and embrace opportunities and achieve our goals."

Gies College of Business embraces the goal of helping people thrive – from empowering learners to explore their purpose, to supporting and encouraging faculty research that positively impacts businesses and communities. A Gies Business course offered this semester exemplifies this theme with a unique take on finance. In Social Impact Investing (FIN 490, 580), learners examine an emerging field of finance that serves as a bridge between venture capital and philanthropy.

The course reviews direct investment strategies that produce financial return while achieving positive social and environmental impact. In the context of social entrepreneurship, students consider new ways of financing solutions to difficult societal challenges while also measuring the impact they achieve. They explore various models for generating financial return on risk capital as part of mission-driven efforts.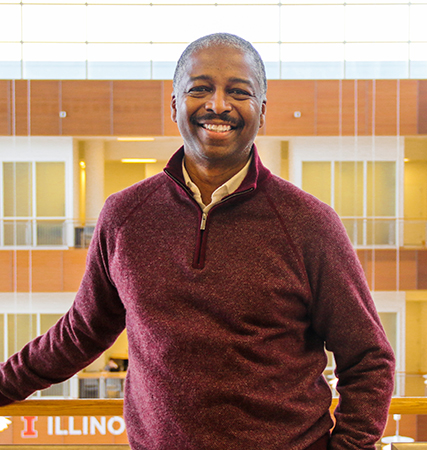 "The course is a great opportunity for students who have been focused on traditional business disciplines, like asset management, corporate finance, management consulting, etc., to think about broader applications of their skill set," said Darwin Brown (right), a clinical assistant professor of finance. "It supplies them with expansive ideas about how they might leverage their technical skills both in their career and in their community service. It's about considering various paths that might allow them to do well while doing good."
Brown, a Gies Business graduate who earned his bachelor's degree in marketing in 1988 and his law degree from Illinois in 1991, focuses his research on developing alternative funding models in impact investing. He strives to show that impact investing isn't at odds with shareholder value; instead, the two concepts can complement one another.

"I came to social impact investing from a capitalist perspective, not just from a do-good aspect," Brown said. "My job as an institutional portfolio manager was to optimize financial returns for my clients, and there's nothing wrong with that focus. But, as we do the technical work of asset allocation in finance, investment professionals aren't separated from personal passions and common cause with community. We have compassion, and we care deeply about things going on in the world. Impact finance is a discipline that rewards us for creatively bringing our technical knowledge to societal problems."

Brown created this unique Gies Business class, which is in its second semester on campus, to expose learners to new products in the capital markets and expansive strategies in direct investment. He hopes to help them understand how they might advance their professional interests while also helping communities thrive.

"It takes money to solve problems, beyond what government and philanthropy can offer," Brown said. "We need to find a way to attract private capital to the cause of addressing societal challenges – getting people to think about satisfying their financial goals while solving practical problems."

Brown sees a direct connection between his class and the "Thriving as Resistance" theme for this year's Black History Month, explaining the role impact investing can play in helping society find creative solutions to challenges resulting from years of injustice and inequity.

"Let's put our energy toward thinking about market-driven solutions that can change that," Brown said. "If you can help African American families thrive by improving their financial status through homeownership or if you can help Black businesses thrive by providing access to capital, you begin to solve a host of social problems."

An innovative exploration of impact investing is just one of many ways Gies College of Business is looking to help people thrive as a form of resistance. With a focus on purpose, the College takes steps with intention and helps learners, faculty, and staff do the same.

"Understanding and working in your purpose is, for me, one definition of thriving," Loyd said. "Working against one's purpose takes energy, while working in one's purpose creates flow."

And after years of continuing racial inequity, along with recent years of the COVID-19 pandemic, Loyd emphasizes the importance of a focus on thriving as an act of resistance to help people truly prosper.

"People point to the dual pandemics of COVID and racism," Loyd said. "Numerous studies have demonstrated that in the US, the Black community has been disproportionately affected financially, medically, and psychologically. As we reconnect and adjust to a new normal, I think we need encouragement to reengage. I hope that seeing thriving as an act of resistance can inspire us to move from a goal of surviving to one of thriving."