Aug 15, 2023 Faculty Finance Student
Gies establishes Real Estate Finance Academy
Gies College of Business has launched a new specialized academy to prepare selected students for careers in commercial real estate. The Real Estate Finance Academy will be a five-semester program offering additional courses, internships, case competitions, and networking opportunities in the field of real estate.
"We have a strong history of high-quality real estate education dating back to the 1950s, and I'm very excited to continue that legacy with this new academy," said Louis K.C. Chan, chair of the Department of Finance at Gies College of Business. "I'm looking forward to seeing how the Real Estate Finance Academy can help us reach more students who are interested in this field and prepare them to become purpose-driven business leaders."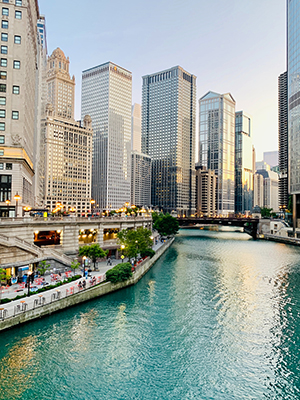 Interested students will apply to the Real Estate Finance Academy during the fall of their sophomore year; the first cohort will be identified in Fall 2023. During the Spring semester, students will take Fundamentals of Real Estate Finance (FIN 442), and then Financial Modeling (FIN 418) during the summer. Over their final two years, students will participate in additional weekly sessions, work an internship with a top-performing firm, and participate in several case competitions.
Adjunct Instructor of Finance Seth Briggs will direct the Academy, which will be operated under Gies' Department of Finance. Briggs joined Gies Business in 2019. He currently teaches Real Estate Investment (FIN 445/545) and Advanced Real Estate Investment Cases (FIN 490/580). Briggs brings more than 30 years of real estate investment experience in Chicago and New York, and he is the faculty advisor for the Rho Epsilon Student Real Estate Association.
"Our sole objective is to prepare our students for the best jobs at the best firms," said Briggs. "Our graduates will be proficient in real estate investment analysis, and importantly, they will be ready for the full variety of career paths within the industry."
Real estate is broadly recognized as the world's largest investment asset class, and the industry includes hundreds of University of Illinois alumni who remain closely connected with the University and Gies College of Business. Upon completion of the Real Estate Finance Academy, students will be prepared to pursue entry-level jobs in commercial banking, investment banking, investment management, consulting, public securities or real estate acquisitions, capital markets, development, brokerage or asset management.