Curriculum and Requirements
The iMSM will require 36 credit hours for completion - 24 of those hours will cover general management core courses. The remaining 12 hours will be electives that you choose based on your interests and career aspirations.
You can complete the program in 12-24 months.
Courses in the iMSM are interactive. Professors engage with you personally, and working with classmates is routine through both an online global classroom and a series of team projects. Online learning and personalized instructor feedback offer you the best combination of quality and flexibility.
Courses are structured to mirror how you'll actually use them on the job. Material is designed for practical application—now and in the future. In fact, course material makes an immediate impact: You can apply at the office tomorrow what you learn in class today. On Monday, you might learn about Tableau in your analytics class and create a graphical data story for a presentation you make at work on Wednesday.
Required Courses
The curriculum includes 24 hours of required business fundamentals courses such as marketing, leadership, strategy, process management, global business, communicating with data, and finance.

Managerial Accounting (4 Credit Hours)

Introduction to management accounting as part of the firm's information system, in terms of modern cost accounting and budgetary systems for planning and controlling business operations.
Leadership and Teams (4 Credit Hours)

Develops and integrates fundamental behavioral concepts and theory having administrative applications; initially focuses on the individual decision maker and ultimately includes interpersonal, organizational, and social structures and influences; and develops strategies and methods of research on behavioral applications in business.
Strategic Management (4 Credit Hours)

Policy construction and planning of policy implementation at the executive level; case studies of company-wide situations from the management point of view; and integration and application of material from previous courses.
Marketing Management (4 Credit Hours)

Introduces concepts useful for understanding marketing systems and buyer behavior, and supports the development of skills for making marketing decisions. The orientation is primarily managerial and uses examples from both business and non-business contexts.
Introduction to Financial Management (4 Credit Hours)

This course provides an introduction to finance for students who have little or no background in the discipline. You will learn how managers and investors use key finance principles to make investment and financing decisions.
Process Management (4 Credit Hours)

Introductory course in decision-making problems in production; includes the theoretical foundations for production management as well as the applications of decision-making techniques to production problems in the firm; and considers production processes, plant layout, maintenance, scheduling, quality control, and production control in particular.
Elective Options
With the remaining 12 credit hours, students have the opportunity to customize their degree by taking elective courses focused on global business challenges as well as data-driven decision-making and communications. Elective options are subject to change based on the semester and faculty availability.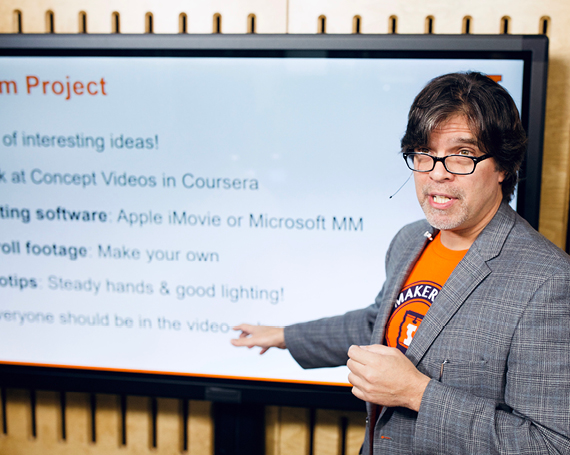 What an average week looks like in the iMSM
Complete the On-Demand Component: Get the fundamentals. Complete a weekly module and assignment that develops your core business knowledge.
Attend the Live Session: Join the global classroom. Attend and participate in a live lecture with your professor and classmates.
Complete Individual or Team Project: Apply what you learn. Complete a weekly assignment designed by your professor.